Outlaw ghosts and a haunted bookstore (Haunted Denton Square - Denton, Texas)
Not far from the famed Goatman's Bridge in Denton County, Texas, a courthouse square has its share of spirits.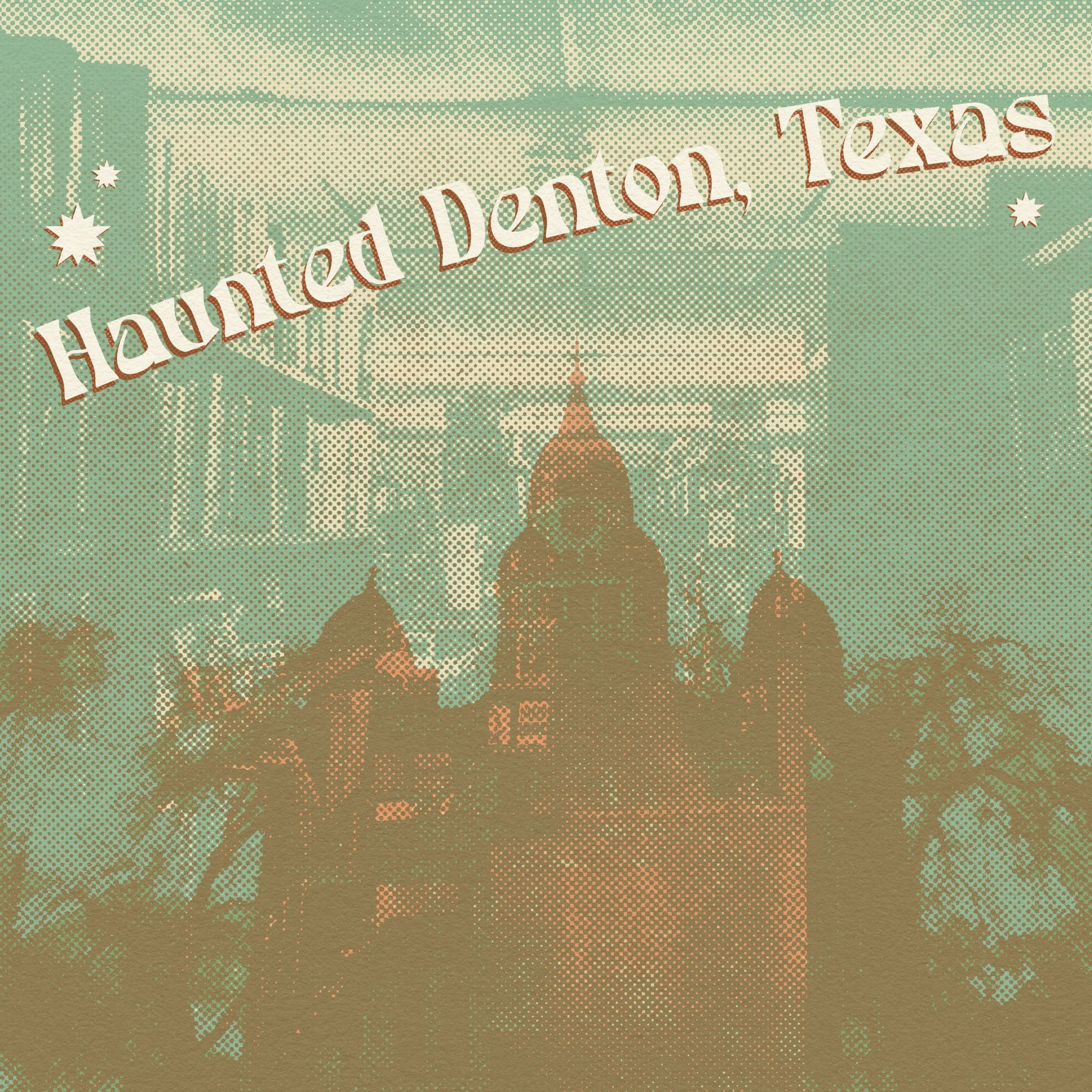 Not far from the famed Goatman's Bridge in Denton County, Texas, a courthouse square has its share of spirits.
I return once more to North Texas—a place of strange UFO and cryptid encounters, and also where I grew up. This time, I'm looking at Denton Square, a historic spot where urban legends, history, and hauntings intersect.
Content note: This episode contains mentions of violence against Black and indigenous people and suicide.
Highlights include:
an opera house that became a used bookstore
a digression about how urban legends spread and develop
a ghost horse!!
Support the New Blood Kickstarter! Please spread the word and—if you're able to—back the project to help bring two new queer paranormal shows into the world! Check out newblood.tv for more info.
This is the written version of an episode of Buried Secrets Podcast, which you can also listen to on your favorite podcatcher.
Haunted Denton Square
This episode, I wanted to take a little bit of a break from the series that I've been doing about the paranormal and nostalgia. Instead, let's look at some of the hauntings of Denton, Texas, which is right near where I grew up.
Actually, I just heard myself say that sentence and realized that perhaps doing an episode about the ghost stories of the county that I grew up is maybe the definition of paranormal nostalgia. But the connections between the paranormal and nostalgia are not my focus here, and this is maybe just nostalgic for me.
I've done a few episodes about Denton, Texas, and North Texas in general. Like I said, I grew up in North Texas, in Denton County, so that's why I've talked about it so much.
To review some of the weirdness that I've already talked about:
Earlier this year, I did a couple episodes about mysterious airship sightings that occurred in North Texas in 1897.
Last year, I did a nine-part series about the Goatman's Bridge, also known as the Old Alton Bridge in Denton County, Texas.
The bridge had been featured on ghost hunting shows like Ghost Adventures and Buzzfeed Unsolved, but I did a bunch of additional digging and learned a lot—not just about the history of the area, but also about how the legends of that particular haunting spread. And I actually think that I broke some information about that particular urban legend, because I was able to trace it to a couple online sources that people latched onto and repeated. And I look at how the story of that legend spread, was embellished online, and eventually became codified as "the" story of the bridge.
In that series, I took an in-depth look at the history of Denton, including a lot of terrible things that happened there. I'm not going to a ton of detail about that in this episode because I've covered it so extensively already. I'm going to focus on ghost stories and this episode will probably be relatively light, overall.
That being said, it's worth being aware that Denton has some pretty awful stains on its history, probably like most of the United States. So content note for some brief mentions of racial violence or intimidation.
The KKK had a chapter there (Klavern No. 136), and they were very active in the early twentieth century. Also, a Black neighborhood called Quakertown was essentially taken over and destroyed by white supremacists.
If you want to know more about that, I did an episode about it as part of my Old Alton Bridge series. Also, a couple students at the University of North Texas have done incredible research on those parts of Denton's history, so if you want an even more in-depth narrative about this aspect of the area's history, check out Chelsea Stalling's 2015 thesis "Removing the Danger in a Business Way": The History and Memory of Quakertown, Denton, Texas and Micah Carlson Crittenden's 2020 thesis The Tall Grass West Of Town: Racial Violence In Denton County During The Rise Of The Second Ku Klux Klan.
So that's just some important context to have when thinking about what haunts the area.
For this episode, I'll be drawing from a variety of sources, but I will be relying especially heavily on a couple in particular.
First, there is Dr. Shaun Treat, who is a former professor at the University of North Texas, which is in Denton. He has a blog called Denton Haunts, and has written a ton of blog posts about the ghosts of Denton.
In addition to Treat's blog, I also read a student thesis from the University of North Texas called Hauntology Man, which was written by Adam Michael Wright. It is actually a treatment for a documentary about Dr. Shaun Treat, so contains a ton of great stories and information. If I say something and I don't give the source for it, it's fairly likely that it came from this thesis. As always, these sources and all the other sources I used will be linked in the show notes.
The second source that you'll see quoted in articles about Denton hauntings is local historian and ghost tour guide Shelly Tucker. It sounds like she's sparing in what she publishes online and tells journalists, because she's saving it for the ghost tour or she directs people to her book about Denton hauntings, so not as much of my information came from her.
In my series about the Old Alton Bridge, I traced how somewhat vague stories of urban legends, retold by one or two people online, get codified and spread. Everyone filters things through their own subjectivity, and the fewer people who tell the stories, the fewer points of view things get filtered through. It can also mean that some hauntings might end up being overstated and—probably more likely— others end up being understated, just because if only one or two people are telling the stories, they're only telling the stories that they know. So I suppose this is my disclaimer that most of the stories I'll be telling today come from stories told by just two folks online.
Denton Square
Denton is a college town; it houses both the University of North Texas, which has about 42,000 students, and Texas Woman's University, which has about 12,000 students. Denton itself has a population of about 140,000 people. So while not all of the students at those schools live in Denton, a large proportion of the people who are regularly in town are college students.
And that's worth keeping in mind: in my series about Fordham hauntings, talked a lot about how colleges seem to be magnets for paranormal weirdness. (There are a handful of ghost stories about UNT, which I'm sure I'll talk about in a future episode.)
The ghost stories that I'm going to talk about take place in Denton Square, a historic downtown area with a courthouse in the middle. It's a very aesthetic spot, full of neon signs, old movie theater-type marquees, and cute shops and restaurants.
I am also very sentimental about Denton Square because I got married at a venue about a block away from the square, and after the wedding we took pictures in the square. So literally my phone background is my wife and me in Denton Square in front of one of the many haunted buildings there.
I got married in 2019, and at the time there was a large, very tall Confederate soldier statue in the middle of the square right next to the courthouse. The statue was put up in 1918, right around the time when the KKK was very active in the area, so it was directly tied to the legacy of racial violence and intimidation in the area. Like I mentioned, I did a whole episode about that called "This Way to the Goatman" .Thankfully the statue was taken down in 2020.
But that's one stark reminder of the past that haunts the area, which prominently featured in the square until recently.
There's also a grave in the middle of the square, next to the courthouse. And that's where I'll start. Because while I don't know of any ghost stories associated with it, it certainly adds a particular vibe to the square.
John B. Denton's grave
If you go to Denton Square, you'll see a headstone surrounded by a little iron fence and some monkey grass on the courthouse lawn.
That is allegedly the grave of John Denton, the man who the city is named after. He was a Methodist preacher and a captain in the Texas military, and he died while attacking some of the indigenous people in the area. I read that he'd attacked the inhabitants of a Keechi Village. His grave was moved three different times, and it's unclear whether he's actually buried in Denton Square or if the grave is empty.
Having a single, prominent grave on the square it is a bit of a memento mori and it is a macabre reminder of the area's past.
Adam Michael Wright's thesis "Hauntology Man" makes a really interesting point about John Denton as a ghost. The thesis talks about how even if Denton is buried there, his body at this point would be "washed into the Denton soil so he is literally everywhere." Wright also points out that Denton's story haunts the area, because he was an oppressor, and he displaced people and killed the people. So that history haunts us as well.
The ghost of Sam Bass
The outlaw Sam Bass is a Texan Robin Hood-type folk hero. According to Treat, there are three different urban legends about him:
1.      Stories about where his gold might be
In 1877, Sam Bass and some other folks pulled off the largest railroad robbery in the history of the Union Pacific Railroad, stealing $60,000 from a train in Nebraska.
After that, he went back down to the Denton area, but he died four months later.
So the question is: what happened to his money? He received $10,000 as his cut of the job, which is the equivalent of almost $290,000 today. So it's pretty unlikely that he spent that much money in just four months.
Folks have theorized that his gold could be a local cave. In the 1980s, it was discovered that one of the caves contained ticks that had both Lyme disease and Rocky Mountain spotted fever, and so the cave was quarantined. Because of that, people can't look for gold in that cave anymore. But apparently some people say that the gold is still out there, and some folks believe that it is buried in Denton Square itself. (Source)
(Sidenote, here's a great picture of Sam Bass' cave—or one of them, at least.)
2. Stories about him being benevolent and charitable
There are a few different stories about him being kind to widows. In one of them, the widow of a Confederate soldier didn't have enough money to pay her mortgage, and her house was about to be foreclosed on. So Sam Bass gave her enough money to pay off the debt and then later stole the money back from the banker.
There's also story about a robbery that went wrong and resulted in Bass' death. During the robbery, which happened near Austin in Round Rock, Texas, Sam Bass ended up killing a deputy. It was the first person who he'd killed, and Sam Bass felt bad about that.
So after Bass is captured, he asks about what happened to the deputy and he's told that he had died. Bass then asked the Texas Ranger who was watching him to give the widow all of the money that Bass had in his pocket and in his bag.
3.      Sam Bass' horse, also known as "the Denton Mare"
The third urban legend about Bass is the ghost story: People have claimed to see the ghost of Sam Bass with a bandanna over his face riding his horse, known as "the Denton Mare," through Denton Square.
The Denton County Courthouse
Like I said, the courthouse sits in the middle of the square. It was first built in 1896, and it's a beautiful historic building.
And there are some ghost stories tied to it, of course. People have seen shadowy figures looking out of the windows, including a cowboy. (Of course, because this is Texas.)
There used to be holding cells for prisoners in the basement, and people have said that they have experienced weird sounds there and they felt like they weren't alone. And apparently there have been a few deaths in the courthouse.
Alright, now let's get to the hauntings of some of the businesses in the area:
The Campus Theater
Theaters always have to have a ghost, and this one is no different. The Campus Theater first opened as a movie theater in 1949. It was notable for being the first movie theater in Denton with air conditioning, which is essential in Texas. In 1967, Warren Beatty and Faye Dunaway came to the theater for the red-carpet premier of Bonnie and Clyde. Later, it became the home of the local community theater.
The building itself is beautiful; my phone background is a picture of my wife and I standing in front of the theater right after getting married, so I see a shot of the theater probably . . . dozens (maybe hundreds) . . . of times a day.
The theater has a huge, old-school marquee and a tall, vertical neon sign on green fin above the marquee. It's got real Art Deco vibes. I've never been inside, but it looks awesome from the outside.
The theater is said to be haunted by the theater's business manager, J.P. Harrison, who started working there in 1949 when the theater opened. Apparently he was a bit of a prankster, both in life and after death. Most of the stories about him involve people hearing weird sounds and footsteps, or there being lighting issues. People have also reported him moving objects both in the back offices and on stage.
Apparently it's considered bad luck if he has no interaction with a production. So he's the ghost you want to haunt you. (Source)
J&J's Pizzeria (118 W Oak Street)
Wright's thesis recounts a story about a pizzeria on Denton Square called JJ's. I'm not up to speed on the businesses in the area, but I think this might have been J&J's Pizzeria, which closed in 2021 after 24 years because of a rent hike. It looks like there's a pasta place in the location now.
Anyway, back when it was still J&J's, a woman who worked there talked about how she was going down to the basement and saw a ghost there. There's not a ton of detail about it, just that she dropped the jar that she'd been holding and ran back upstairs.
Paschall Bar / Andy's Basement (122 N Locust Street)
This bar and concert venue based in the oldest building on Denton Square (built in 1877) has reportedly seen some paranormal weirdness: mysterious faces in the window and people feeling like someone was pushing them on the stairs. (Source)
Hooligans (104 N Locust Street)
Located in a building dating back to 1899, this bar has some similar, vague reports of weirdness: Supposedly people have been tripped on the stairs by unknown forces.
Recycled Books
For me, the highlight of Denton Square is the awesome used bookstore, Recycled Books. The building was once the Wright Opera House, which is on the National Register of Historic Places. It was completed in 1901 and constructed with bricks from Denton's old courthouse, which was struck by lightning and burned down in 1894.
The opera house hosted vaudeville, light opera, local talent shows, and melodrama. It was so grand that people came all the way from Dallas to see operas there. Supposedly one actor killed himself in his dressing room, but I've only found one (not particularly verifiable) source that's claimed that.
The opera house shut down in 1913 because there of competition from movie theaters in the area. In 1918, it became the Majestic Theater for a while, but that didn't last long.
Local historian and ghost tour guide Shelly Tucker said that "its last audience was an all male group who paid $2.00 each to witness a prize fight between a local post office employee and a semi-pro boxer from Dallas." It later became a saloon, a department store called The Boston Store, and Kibler Office Supply Store. In 1990, it became a bookstore.
The building looks awesome; these days, it's painted pink and purple. According to a Texas Observer article from 2012, the bookstore, which takes up three floors, is 17,000 square feet and houses about 400,000 books.
The ghost stories here are somewhat vague, but I've read about books flying off of shelves, cold spots, unexplained voices, weird sounds, and a ghost named Emma. Supposedly, customers using the store's online book search database have had their queries get changed to "Emma." Students who've lived in the apartments upstairs from the bookstore have claimed to witness mysteriously moving objects, slamming doors, and phantom footsteps.
According to an article in Denton County Magazine, Tucker asked the owner of the bookstore whether it was haunted:
"Every ghost story you've ever heard about that place is true," he told her.
"So you think it's haunted?" she asked.
"I know it is," he replied.
Outro
Alright, so that's a quick look at the hauntings of Denton Square.
Dr. Shaun Treat, quoted in a UNT student's thesis called Hauntology Man said: "Denton is a very haunted place, but I suspect it's not unlike any other place across the American south."
This quote gets at a lot of the things I was thinking about while researching this episode. I went through a bit of a roller coaster, where I was super excited to dig into all of Denton Square's hauntings, since it's the most historic part of a place that has a reputation for being haunted. But then when I actually went through and catalogued the stories, I started feeling disappointed.
I spent months last year researching the parts of Denton's history that related to the Old Alton Bridge, and I found such a trove of urban legends and rumored phenomena that led me to learn more about history, and history that helped me understand the paranormal aspect of the story better. Goatman's Bridge is such a rich text when it comes to hauntings.
But it also had something special, which is that while it started out as a local urban legend spread through word of mouth and then morphed into a couple people online talking about it, it spiraled out into something completely different. After Ghost Adventures and Buzzfeed Unsolved featured the bridge, that made it an even more popular haunt, which meant that more people visited the bridge and had an eye out for paranormal weirdness, which meant that more people were likely to notice the paranormal. And the more people posted online about it, the more places people had to share their stories. When researching the Old Alton Bridge, I scoured the comment sections of YouTube videos, Google reviews of the location, and forum posts, looking for unusual personal stories.
But not every haunting gets that sort of attention. Which means that people might consistently notice strange phenomena day in and day out, but it never rises to the level of them spreading the word. At the most, they might mention them to local ghost tour guides.
Now that it's become so famous, maybe the Goatman's Bridge has a thoughtform associated with it, which then causes new phenomena, which then makes people talk more about it. But like I said, I think conversation about a location creates venues for people to share their thoughts, which then naturally snowballs into a larger body of folklore.
I do think that something's up with the Goatman's Bridge, on a paranormal level. The urban legend also resonates on a narrative level, because as I talked about in the series, it functions as a sort of "folk news" that teaches people about a hidden part of the area's shameful history.
But I wonder how many other places might have significant hauntings, but there just isn't a well-known narrative for people's experiences to be tied into or a place for folks to share them.
I was disappointed by some of these Denton hauntings because they seemed so commonplace. I loved the mysterious name showing up on the bookstore computer and Sam Bass' ghost horse, but some of the stories felt like they could have happened anywhere. The sound of footsteps? A theater ghost? How do those stories differ from, say, some of the phenomena from the episodes I did about Scranton's hauntings? Or any bog standard story of a haunting?
But then I started thinking about how folklore seems to slowly spread, to congeal as more people tell their stories. And part of me wonders how many "commonplace" hauntings are just a hint at something much larger, at stories that are waiting for their time to unfurl.
Anyway, the next episode will probably be about more Denton hauntings. I haven't talked about some of the more famous UNT ghost stories, which seem to be some of Denton's best-known urban legends (aside from the Goatman). I even saw something about a Pigman that I need to do further research on.