The Collins Auditorium Ghost and Other Stories (Haunted Fordham University)
Ghosts emerging from paintings, an entity made from smoke, and bathroom electronics going haywire are just a few of the weird stories I dug up for this episode.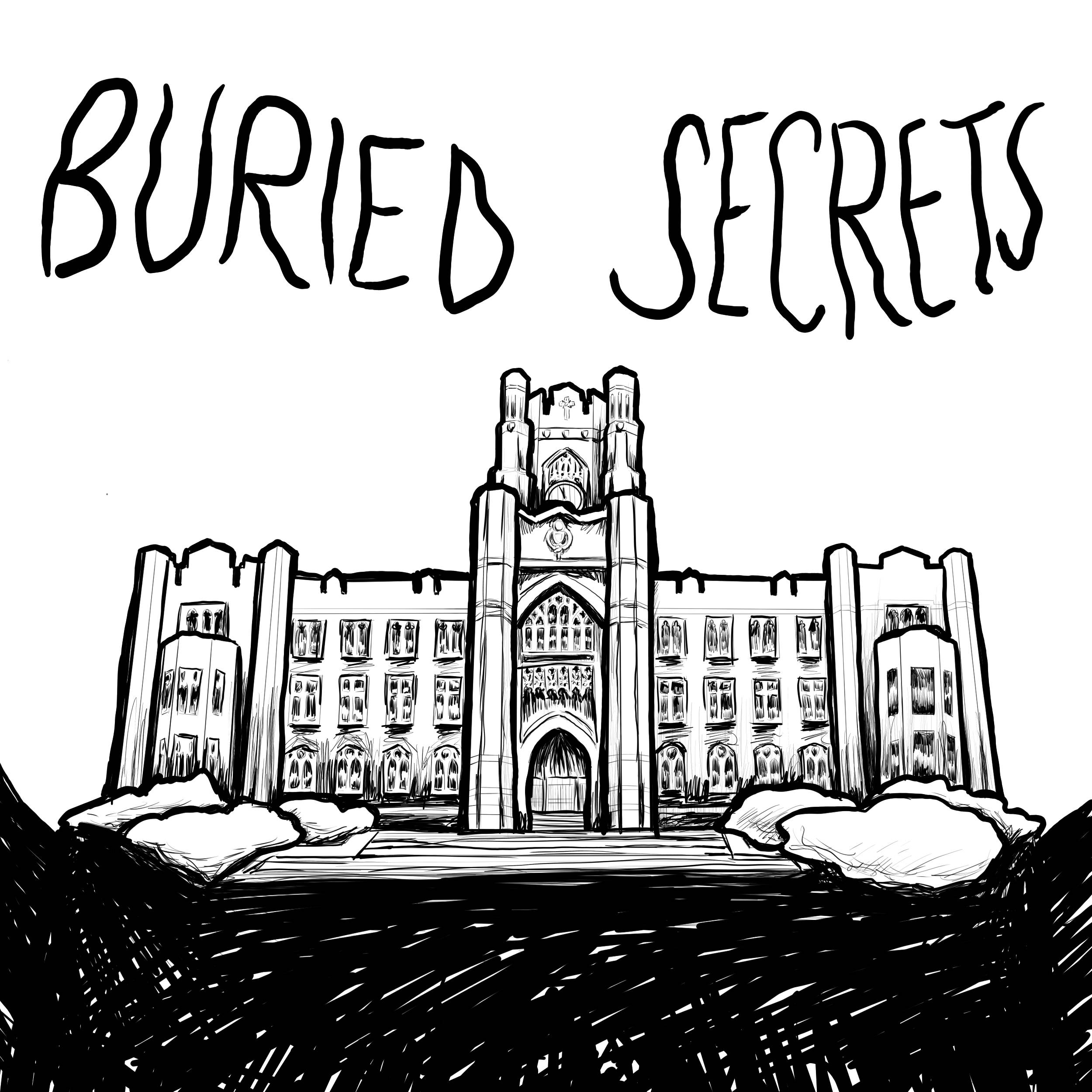 Table of Contents
The Collins Auditorium Ghost and Other Stories: Ghosts emerging from paintings, an entity made from smoke, and bathroom electronics going haywire are just a few of the weird stories I dug up for this episode.
This is a look at some of Fordham University's "less haunted" haunted buildings, including a theater, administration building, and classroom building. Plus a look at some of Fordham's other campuses (including one defunct one.)
Highlights include:
• An urban legend about George Washington's headquarters
• Phantom cigar smoke
• Stories from the Lincoln Center campus
• A look at a supposedly haunted women's college that had an ill-fated merger with Fordham
Episode Script for The Collins Auditorium Ghost and Other Stories
DISCLAIMER: I'm providing this version of the script for accessibility purposes. It hasn't been proofread, so please excuse typos. There are also some things that may differ between the final episode and this draft script. Please treat the episode audio as the final product. 
Note: For this version of the script, I tried to censor students' names. Everyone I mention by name was quoted and named on the record in publicly accessible articles, but many of the articles exist in PDF form in the university's archives and are not indexed by search engines. I don't want to screw up the SEO on anyone's name, so if you want to see full names, check out the sources or listen to the episode. 
Administration Building (now called Cuniffe House; it was renamed after a trustee in 2013)  (1838):
The Administration Building was the old manor house for Rose Hill Manor. Technically it's the second manor house, I've heard it called the Moat Mansion; there was another before it that was built in 1692, or maybe 1694, depending on what you're reading. I've read lots of stuff about there being different old historic hospitals and stuff on campus, and while I'm not familiar with a hospital other than Fordham Hospital, which came in the later 19th century and was demolished in the 20th century, in 1846, the old Manor house was used as an infirmary and residence by the Sisters of Charity. So that's at least one old hospital-type use that a building had on campus.
There's an interesting article on Fordham's website about what life used to be like on Fordham's campus back in the day. There did use to be a farm at Fordham until around 1907. I wanted to read a bit from the article, because it talks about what life was like for students and how Cunniffe house was used:

"The food was produced within sight of the building—today's Cunniffe House—where the students studied, slept, and ate. On the site of the Rose Hill Gym was an orchard that produced apples, pears, and cherries, according to the professors' research. Potatoes, corn, and other crops were also grown on campus. A vineyard on the site of today's college cemetery yielded two or three barrels of wine per year, and the field at present-day Fordham Prep was a pasture populated by 30 to 40 cows.
". . . Dietary staples at Rose Hill included beef and pork; pigs as well as cows were raised at the farm, Wines and Gilbert said. On special occasions, students dined on oysters and other shellfish. Bread was probably baked on campus, and vegetables may have been grown in a greenhouse east of the University Church. Jesuit brothers oversaw food production.
"After a few decades, the students' dining area was moved from today's Cunniffe House to a newly completed space in Dealy Hall. Eating was a solemn affair, far removed from the freewheeling atmosphere of today's campus dining venues. It was strictly regulated by the college's Rules and Customs Book, according to a chapter by Gilbert and Wines in Fordham: The Early Years (Fordham University Press, 1998), edited by Thomas C. Hennessy, S.J.
"A student read aloud from literature or history during meals, and No. 5 in the Rules for the Refectory section of the customs book required students to eat in silence so they could "give an account of what is read, if called upon." Students stopped eating at the ringing of a bell and then rose to face the prefect, answer a prayer, and make the sign of the cross before turning to silently leave in single file with their arms folded.
"Indeed, students were expected to keep quiet during most of their daily routine, which was akin to the rigors of a "medieval monastic regime," according to Msgr. Shelley's book, Fordham, A History of the Jesuit University of New York: 1841-2003 (Fordham University Press, 2016). But they still found moments for food-related levity, he wrote: "God sent food; the devil sent cooks," the students would gripe, echoing a longstanding complaint of college students everywhere."

There's a legend that says that the old manor house  was used as George Washington's HQ during the Revolutionary War, but I don't think that's been substantiated.

Fordham Manor is supposedly mentioned in James Fenimore Cooper's book The Spy, though I did a text search of The Spy for a lot of key phrases, like "Fordham," "Rose Hill," "Manor," "Headquarters," and both the old and new spellings of Bronx and came up empty handed, so it must be a fairly oblique reference.
To read a bit from the 1891 book A History of St. John's College:

"Tradition ascribes to this time-honored relic the distinction of having served as General Washington's headquarters during some of the maneuvers preceding the battle of White Plains. Among the many venerable trees that surround and overshadow the houses is the identical tree (so says again infallible tradition) to which the Father of his Country tied his horse on dismounting. It is believed by a great many that this old manor house is the building in and about which the principal incidents described in Fenimore Cooper's novel, 'The Spy,' took place."

I like how even this 1891 source is sarcastic about "infallible tradition"–at least I assume it's sarcasm.

 If it's true anyway, it would have been the old manor house, because the current administration building was constructed in 1838, with the current wings added in 1870. (there had previously been wings coming out from the back of the building, east toward Keating Hall, and now the wings extend north and south)
The old manor house was torn down in 1896.
 The most common story I've heard about the administration building is at hat supposedly it smells like cigars all the time, and people say that there's a ghostly story behind that–I assume some former resident or a Jesuit was supposed to have smoked cigars?
The Ram, October 28, 1983 (this article was also reprinted in October 1988):

Rumor has  it  that  five  Rose Hill  buildings contain  entities  of  the  "former-human"   persuasion:  the  Administration   Building,  Dealy Hall,  Hughes  Hall,   Duane   Library   and   St. John's Hall.
"There have been  a couple  of  cases  of  old Jesuits    floating    around    here,"    says   Rev. Norris  Clarke,  S.J.   "The  old  Jesuit   walking on   the   second   floor   of   the   Administration Building  has  been  seen  by  a  number  of  people,"  he added.
One  of  two  buildings  on  campus  to  pre-date  the  arrival  of  the  Jesuits  (the  other  is  the University   Church),    the    Administration Building   has   served   as   everything   from   a student  residence  hall  to  a library since its construction  in  1838. According  to  Clarke,  a  few elderly   priests  lived   there  when   the  second floor  served  as an  infirmary  several years ago. In  the  recent  past  a  student   worker  was  up-stairs after  hours  when  he saw an elderly  Jesuit walking    around    aimlessly.    He    made    an attempt  at  conversation  but  got  no  response. Later,  according  to  Clarke,  the  student  asked a  group  of  priests  about  his  late  night  visitor
Upon  describing  him  to  them, they said to  then young man,  "Well, he's  been dead  for  a number  of years."

The 1983 article also describes a supposed haunting on the first floor of the administration building, where a bunch of portraits of Fordham's past presidents hang. Supposedly, the ghosts of the past presidents emerge from the paintings when they want to see how things are going.
Keating Hall (1935)
Keating Hall is the university's sort of flagship, trademark building. It towers over the quad and looks nice. It holds classrooms, some big lecture hall/auditorium type rooms, a chapel, and there's also stuff like the radio station in the basement. At least when I was a student, there was a language lab in the basement, and some of The Exorcist was filmed there, though language labs prob aren't a thing anymore, are they?
The basement room that was used in the filming of The Exorcist was also used as the Pentagon office in the movie A Beautiful Mind
In terms of hauntings and dark history relating to Keating Hall, I keep reading stuff online saying that Keating Hall used to be a hospital. I don't know what they're talking about.

Keating's actually one of the (relatively) newer classroom buildings on campus, it wasn't built until 1935.
I tried to figure out whether it was possibly used as a hospital or medical facility during WWII, and it doesn't look like that was the case.
Fordham was a site for two Army Specialized Training Program units, so in June 1943, the gym was a dorm for troops. At one time there were 788 troops staying there. And then after that, the army requisitioned some buildings, including the gym, Dealy Hall, and part of Keating. But that was just to use as housing for 900 Army Postal Service members. They were there till 1945. Keating Hall used to have a cafeteria, and apparently at one point during the war effort, 2,750 meals were served there each day (it was open from 4 am to midnight.)

Supposedly, Keating Hall was built on top of old morgue tunnels, and I've read that there was an old hospital there in the 1830s. I haven't found reputable sources saying this, however.

though I'd imagine that it's connected to the steam/electricity tunnels, so that may be where the morgue rumor is.

An October 2005 article in the Columbia Spectator, Columbia's student newspaper, recounts some of the stories of Keating Hall:

"The first floor of the building has chairs and historical items on display, but few students sit on them because of the feeling of being watched. There are also cold spots even in the summer, and people often say they are the spirits of Jesuits that have past. On the third floor, there are many reports of being touched on the shoulder and seeing ghosts while in the auditorium, a chair tumbling down the stairs without anyone present has been witnessed more than once."
https://www.columbiaspectator.com/2005/10/28/haunted-new-york/

I can confirm myself that there were cold spots in the building. I remember feeling them on the first floor, in the interior area leading toward the big auditorium there. I remember there were these connected interior hallways with benches, and I specifically felt cold spots, and tried to find where they were coming from and wasn't successful so thought they might be paranormal.
A video on Youtube from October 29, 2021, from the Truman High School Media Program, recounts one person's story. Truman High School is a school in Co-Op City, so by Pelham in the Bronx.

A teacher at the school had an experience in Keating her freshman year. She went into the bathroom, the automatic sink wouldn't turn on. Suddenly, all the lights turned off. Then one of the other sinks turned on by itself, and she went over to wash her hands there and it went off. Then the window slammed and the lights turned back on, and then all the sinks turned on at the same time.
She did think through what mundane stuff could have happened: The sinks were new automatic sinks. She thought maybe there could be a glitch in the electronics since they were new. It was also windy, it was March, so she said that was what may have been going on with the window.
One additional point of interest is that her grandfather, both parents, and sister went to Fordham, and she was aware of Fordham being haunted before she started there.

I found some claims that the clock tower in Keating is haunted, in an article published in The Fordham Ram, Truths of a Forbidden Tower Revealed (published online in 2021 but seemingly originally published in 2013?): https://fordhamram.com/1659/news/truths-of-a-forbidden-tower-revealed/

Blair H—-, FCRH '12, attests to a scary but worthwhile experience. "It was a lot of fun and kind of dangerous, especially when my phone lost battery in the dark," she said. "But once we were up there the view was breathtaking."
Mairin O—- FCRH '12, accompanied Hassell in the tower. She offers this warning to future climbers: "Beware of the ghosts. Blair's phone died on the way down. Kelly swears a ghost tickled her neck."

Maybe worth mentioning, the Keating clock tower is off limits and it's dangerous, and when I was researching this, I saw that in 2019, a student fell to her death from the clock tower.
Collins Auditorium (1904)
This was originally the law school building. The law school was supposed to use facilities at Xavier, a catholic school downtown, but when enrollment at Xavier increased, they didn't have space, so the law school was moved to Collins.
Nowadays, there's a standard theater, a blackbox theatre, and I believe the philosophy offices.
Per Fordham library:

With the hauntings around Collins even the faculty are spooked. They and students alike have reported seeing a man walking around the balconies. This same ghostly figure is often blamed for things being rearranged or moved backstage before performances.

A 2010 article in the Ram claims that Father Collins, the university president at the time that the building was constructed, is the ghost who haunts the theater, though that seems awfully convenient to me.
However, a website called theramrealm.com had a 2014 article that quotes an anonymous student who talks about the supposed ghost that haunts Collins Auditorium, Johnny Collins.

"Johnny is harmless, but he likes to make his presence known. It can be frustrating when we're practicing, and then the lights just shut off." Still, despite the hauntings, she says "Collin's is where I spend half my semester practicing, I think Johnny likes the company."

That being said, it's hard to say who a ghost is unless they tell you, or you see them (and even then, they could be lying.) So even though I think it's kind of convenient that people assume the ghost is the guy the building was named after, I guess I don't blame them for assuming that's who the ghost is, lacking other evidence of who the entity may be.
Lincoln Center
There are very few stories that I could find about hauntings at Fordham's Manhattan campus. I did find a few mentions of weirdness in one of the residence halls, McMahon, and maybe something in Lowenstein, which is a building that holds classrooms, offices, etc.
First, let's look at McMahon, which was built in 1993 and is a 20-story dorm.

"For McMahon Hall resident Sam T—-, Fordham College at Lincoln Center (FCLC) '19, this situation became a reality just a few weeks ago. "I was exhausted. I had pilates in the morning, so I figured I would go to bed early. While I liked the idea of having the apartment to myself, something just didn't feel right, but I attributed it to being naturally paranoid and the spooky nature of October," Sam recounted of the October night. She disregarded her uneasiness and quickly got ready for bed. Just like a typical night, Sam shut her door and laid on her bed with her back facing her door. That's when she began to hear her door open and close. "My door has never shut all the way. The door just doesn't fit the frame properly. So, I didn't think anything of it at first." Sam turned over to look at her door and didn't see anything out of the ordinary, but when she returned to her position facing the wall, she heard her door open and close again. "This happened a few times, and the door only seemed to move when I was facing the wall. Yeah, it was strange, but it was also starting to annoy me."
Sam got up and opened her door, but didn't find anything. "I've seen my roommate prop her desk chair against the door before, so I did that, and got back in bed. I figured that would stop my door from opening and closing." Sam paused to recollect herself for a second, then continued, "But the opposite happened. I turned to face the wall and got comfortable, then all of a sudden the door began rapidly banging against the chair as if someone was violently attempting to break in." Instead of facing whatever was at the door head on, Sam decided to pull the covers over her head and tried to go to sleep. "I reasoned with the ghost. I basically said, 'Hey, I have pilates in the morning, so I'd appreciate if you don't do this tonight,' and it seemed to work. The banging eventually stopped, and I was able to go to sleep. But, it was still the spookiest thing I've ever experienced." Since this incident, Sam hasn't experienced anything else in her apartment, but she believes someone definitely wanted to make their presence known that night.
Sam is not the only student at Fordham Lincoln Center who has experienced something strange. Another McMahon Hall resident, Jasmine F—-, FCLC '19, recalled seeing a ghostly figure: "It was the night before Halloween. I just remember waking up and feeling a presence. I looked near my bed and it appeared to be a person in rags with a black aura and smoke where their feet should've been." When asked if she was as scared as Sam was, Jasmine replied, "No, I was more intrigued. It was magnificent really. It made me want to learn about the history of this building, and who the figure could've been."
While Sam and Jasmine have first-person encounters of ghosts at Fordham, many students haven't experienced anything. One of the people I asked about Fordham ghost stories even said, "No…Lincoln Center is too new and nice for ghosts. Try the Rose Hill campus." So, that's exactly what I did."
Now, let's get to Lowenstein, which was built in 1969. It's the building I was in the most at Lincoln Center, since I took some classes there. It has classrooms, the bookstore, theater, etc.
From the Fordham Observer, October 28, 1998:

The article talks about how the building is so new that it doesn't make sense for there to be hauntings there, etc. So there's a kinda jokey article about that where the writer mentions one strange thing she's encountered, and then comes up with a fictional story to say what could be happening.

"There   is  one   Lowenstein   room, however,  that  makes  me  think  twice before  dismissing  it  entirely. Have you  ever  wandered  by the  new  Photo ID room  when  it  is closed,  either  late at  night  or  on  weekends?  If  so, you may  have  taken  notice  of  a  strange, yet persistent phenomenon.
"Whenever the  Photo  ID room door is closed, an eerie tapping  is heard  from within.    It  is  repeated  and  insistent, and  it  is  always there.   When  I  first heard  it a month ago, I thought  it was an isolated  incident.  Each time thereafter,  though,  I  became   more  and more   intrigued.     Where   was  this sound   coming  from?     What  did  it mean?"
Marymount
"The ghosts of founders Father Gailhac and Mother Butler roam the halls of the dorms and protect the girls of this women's college. Evil spirits lurk in Sacky parking lot, left behind when the Sacky House was torn down before the college was built in 1907. Most haunted dorms: Gailhac Hall and Gerard Hall. Strange phenomenon exist in these halls from invisible bed guests to bed shaking and the constant feeling of being watched.  Beware students and stay far away from Ouija Boards.
"Marymount College has been closed in May 2007."
Anonymous said…

"I work there and i just recently had an experience I saw a shadowy figure move from right to left it was awesome and also heard whistling
February 18, 2013 at 5:14 PM

Anonymous said…

Neat trick on Fr. Gailhac's part if he found his way to Tarrytown. He died before the college was founded and wasn't in on the planning of the college. He knew nothing about it. His role was as Founder of the Religious of the Sacred Heart of Mary in Beziers, France. Mother Butler is buried in the crypt of the now Marymount Convent. In my years at Marymount, I can't say I ever met her wandering around, but I know she was very much loved by students who knew her when she was alive.
"Regarding "Sacky House", the information is really messed up. Sacre Coeur Hall stood on the site of the "Sacky Parking Lot" until after 1970, so it was very much a part of the college and was not torn down before the college was founded. I know. I lived in it as a student. It was NEVER called "Sacky House". It was Sacre Coeur Hall or "Sacky". It was one of our favorite dorms because it was a nice old mansion with turrets and a wide veranda with a view of the Hudson River. Haunted? I doubt it. In any case, if there are "spirits" slouching around the parking lot, they're benevolent ones. Sorry to burst your bubble, but Marymount was a fine old college that provided a wonderful education to generations of young women. It's not haunted.
May 15, 2013 at 7:18 PM"
Don't miss past episodes about Fordham's history and hauntings:
Sources consulted RE: Collins Auditorium Ghost and other stories
See sources page for the full source list for the series
Books consulted
Fordham: A History of the Jesuit University of New York: 1841-2003 by Thomas J. Shelley (2016)
Fordham: A History and Memoir, Revised Edition by Raymond A. Schroth (2009)
Buried Secrets Podcast Newsletter
Join the newsletter to receive the latest updates in your inbox.