Se-Osiris, Ancient Egyptian Wizard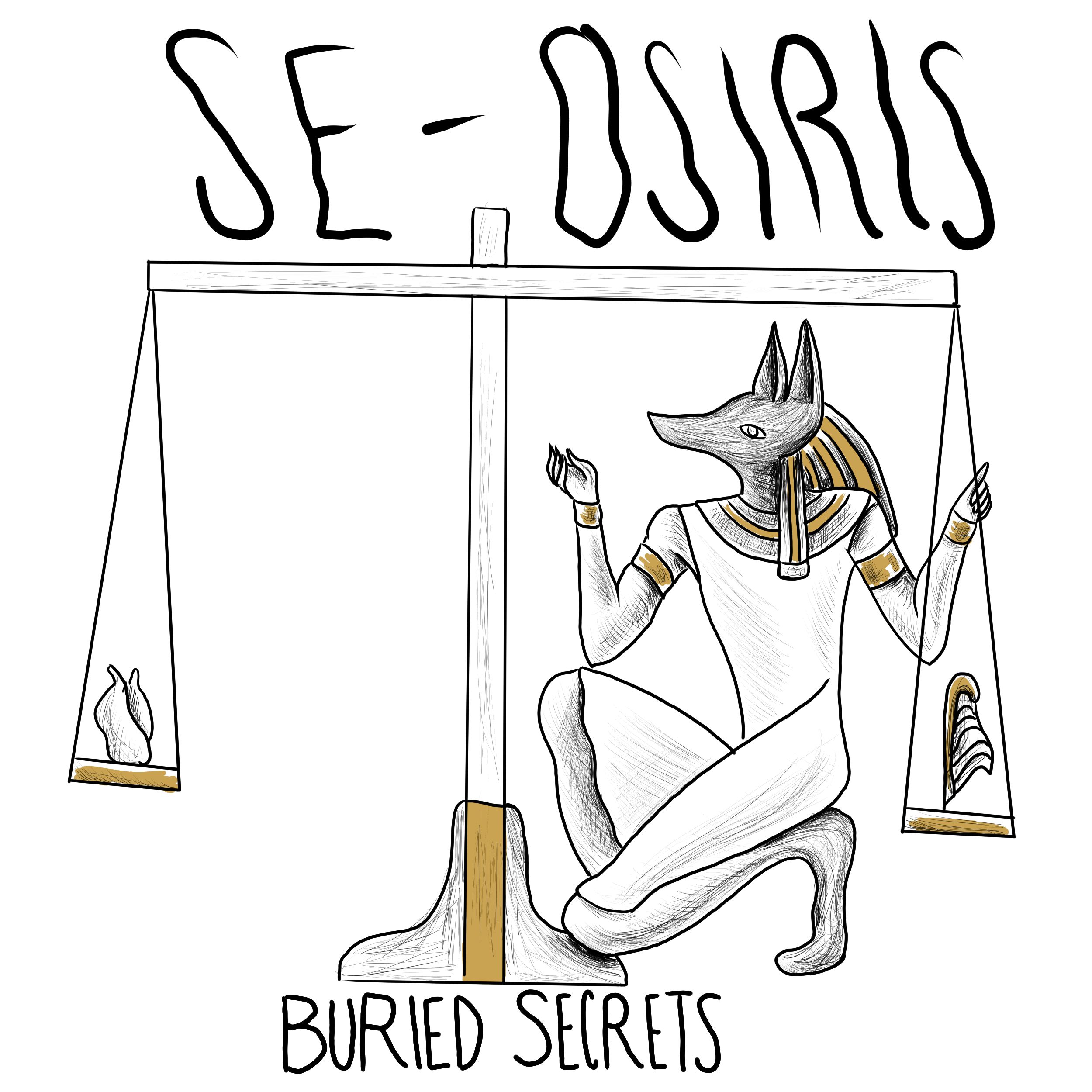 Table of Contents
A look at the magic-filled legends of Se-Osiris, Ancient Egyptian Wizard, who, as a pre-teen, traveled to the underworld and later dueled with a reincarnated sorcerer.
Setne II, an Ancient Egyptian story that's survived on papyrus, tells the tale of a Dante's inferno-like descent into the underworld, and a flurry of magical duels and reincarnation. Oh, and the person doing the magic is a 12-year-old kid.


Highlights include:
• A protective mother who turns into a goose to fly to save her sorcerer son
• The weighing of hearts
• The jackal-headed god Anubus
• Ammit, devourer of the dead
• A trip to the land of the dead
Episode Script for Se-Osiris, Ancient Egyptian Wizard
DISCLAIMER: I'm providing this version of the script for accessibility purposes. It hasn't been proofread, so please excuse typos. There are also some things that may differ between the final episode and this draft script. Please treat the episode audio as the final product. 
[When the] boy Si-Osire [reached] twelve years of age, it came to pass that there was no [scribe and learned man] in Memphis [who could compare] with him in reciting spells and performing magic.
–Ancient Egyptian Literature, Volume 3, by  Miriam Lichtheim
Last week we talked about Setne I, a story about an Ancient Egyptian prince who did some magic and stole a spell book called the Book of Thoth.
This week, we'll get into the story of Se-Osiris, his son, which is a story that I was really interested in when I was a kid.

It sounds like Setne II maybe begins much later, when his children were grown.
But the story says that he and his wife, Mehusekhe, were sad because they didn't have a son. (So I wonder if this was his second wife, maybe?)
So Setne's wife, whose name I'm not gonna try to say again, went to the temple of Imhetep to pray for a son.

Imhotep had been a chancellor to a pharaoh in the 27th century BC. He may have been the architect of a step pyramid that still stands in Egypt, and he was also the high priest of Ra, the sun god, in Heliopolis, which was the biggest city in Egypt at the time.
We don't know a ton about him, but he was supposedly a great physician, and an author of wisdom texts. Interestingly, for the first 1200 years after his death, there's no written mention of his name, but 2,000 years after his death he became more and more popular, especially among intellectuals, and eventually became a god. He's notable for being one of the few non-royal Egyptians who became dieties after death, and there was a cult that grew up around him.
He ended up being kind of combined with the god Thoth, the god of math, medicine, and architecture, and the patron of scribes.
There are tons of legends about Imhotep, including stories about him ending a 7-year famine, having a god as a father, and fighting an Assyrian sorceress in a magical duel. He's also credited with having been the one to start the tradition of burying pharaohs in pyramids made entirely out of stone.
Imhotep was an important god for a while; his popularity lasted into the Roman period. Also, the Greeks combined him with their god of medicine, Asklepios.
And I know you're thinking: Wait, isn't Imhotep the bad guy in The Mummy and The Mummy Returns? And the answer is, yes. The filmmakers of the 1932 version of The Mummy were very vaguely inspired by the historical figure of Imhotep when creating the bad guy, and of course that led to him to be an important figure in the Brendan Fraser remakes as well.

So, anyway: Setne's wife went to pray to Imhotep and asks for a son. That night, she slept in the temple, and in her dreams, she was shown how to prepare a magical remedy that would give her a son.
The remedy worked, and Setne and his wife were thrilled. Setne felt that his wife needed extra protection, so he gave her an amulet and cast some spells around her.
One night, Setne was told in a dream that his son would make wonders happen and that his name would be Se-Osiris.
So when the son was born, that's what he was named.
When Se-Osiris started school, he was smarter that the other children and smarter than the tutor. So Se-Osiris started reading all of the magical papyri in the temple, and everyone was amazed.
Setne made plans to bring his son to a festival where all of the Pharaoh's magicians would try to defeat him.
So one day, when Se-Osiris, who was still a little kid, was preparing for the contest with his father, they heard mourners crying.
Setne looked down from the terrace they were standing on and saw a funeral procession for a rich man. He was being brought to the mountains to be buried.
At the same time, he saw  the body of a poor man, wrapped in a straw mat, being carried through the streets, with no one there to mourn him.
Setne said that he hoped that he'd die like the rich man, honored and lamented, and not like the poor man, who was alone and forgotten.
Se-Osiris replied (and I'm quoting from the 1915 book of Egyptian legends): "Nay, my father, rather may the fate of the poor man be thine, and not that of the rich one!"
Setne was really upset by this, and said: "Are they the words of a son who loves his father?"
Se-Osiris replied: "My father, I will show to thee each in his place, the peasant unwept and the rich man so lamented."
After Setne asked him how he planned to do this, Se-Osiris started chanting words of power from the magical books, and he led his father to an unknown part of the mountains near Memphis.
There they found 7 great halls full of all sorts of people.
They passed through 3 of them without incident, but when they reached the 4th, they came across, to quote from the book a bit more:

"a mass of men who rushed hither and thither, writing as creatures attacked them from behind; others, famished, were springing and jumping in their efforts to reach the food suspended above them, whilst some, again, dug holes at their feet to prevent them attaining their object.

I also wanted to read a bit from a summary of the story from ancient.eu, which had some detail that the 1915 mythology book didn't:

There they see people who had no luck in life, and blamed others instead of themselves, trying to plait ropes together, but before they can finish, donkeys chew through their work. Their efforts are as futile in the afterlife as they were on earth because they accepted no personal responsibility. . . . These people, Si-Osire explains, are those who were grasping in life, never content, and remain the same in death.

And then to continue reading from the 1915 book:

"In the fifth hall were venerable shades who had each found their proper and fitting place, but those who were accused of crimes lingered kneeling at the door, which pivoted upon the eye of a man who ceaselessly prayed and groaned. In the sixth hall were the gods of Amenti, who sat in council, each in his place, whilst the keepers of the portals called out the causes. In the seventh hall was seated the great god Osiris on a golden throne, crowned with the plumed diadem. On his left was Anubis, and on his right the god Thoth. In the midst were the scales wherein were weighed the faults and virtues of the souls of the dead, while Thoth wrote down the judgment that Anubis pronounced."

So to explain a couple things here: we already talked about Thoth, the scribe god, and Osiris, the god of the afterlife, the dead, resurrection, and life.
Amenti was the land of the dead in Egyptian mythology, also called Duat.
Anubis, of course, is the jackal-headed god of death, mummification, embalming, the afterlife, cemeteries, tombs, and the Underworld.

And I guess I should say: I described him as jackal-headed because that's generally how he's described, in part because jackals were associated with cemeteries since they were scavengers who apparently could dig up human bodies and eat them. So the Ancient Egyptians decided that a jackal god should be the one to protect the dead.
But nowadays, it's said that the animal that was sacred to him was't actually a jackal, but was actually an African golden wolf, which until 2015 had been mistakenly classified as a jackal.
But despite having a golden wolf's head, Anubis was usually depicted in black, because that color symbolized life, regeneration, the soil of the Nile River, and color of a corpse after embalming
In the Old Kingdom of Ancient Egypt, Anubis was the most powerful god of the dead, before being supplanted by Osiris in the Middle Kingdom. And then by the late pharaonic era, Anubis was someone who would hold the dead person's hand to lead them to Osiris, and the afterlife. So talk about a demotion.
But at any rate, in the Book of the Dead, Anubis weighted the heart of a dead person against truth, which was often symbolized by an ostrich feather. Anyone whose soul weighed more than the feather would be denied the afterlife and consumed by Ammit.
Ammit was a demon and goddess with a body that was part lion, part hippo, and part crocodile, because those were the three largest human-eating animals in Ancient Egypt. Some of her titles were "Devouerer of the Dead," "Eater of Hearts," and "Great of Death."
Once Ammit ate the heart, the soul basically died a second death and became restless for eternity.
Ammit wasn't a goddess who was worshipped, because she represented everything that the Ancient Egyptians feared. Because in their faith, unlike in Christianity, the worst fate wasn't hell, but to be denied entry into the afterlife and immortality.
And apparently in some stories, Ammit stands next to a lake of fire. So it's all very metal and terrifying.

So, anyway, back to the story. Setne and Se-Osris are standing watching the souls being judged, and Setne sees someone who's been dressed in fine linen and sitting in a place of honor.
As Setne's looking around, Se-Osiris says:

1915:
"My father Setne, seest thou that great personage in fine robes and near to Osiris? That peasant whom thou didst see carried out of Memphis without a soul to accompany him, and his body wrapped in a mat, dost thou remember, my father? Well, that peasant is the one beside Osiris! When he had come to Amenti and they weighed his faults and virtues, lo! his virtues outweighed all. And by the judgment of the gods all the honours that had been the share of the rich man were given to the peasant, and by the law of Osiris he takes his place midst the honoured and exalted. But the rich man, when he had come to Hades and his merits were weighed, lo! his faults weighed heavier, and he is that man you have seen upon whose eye pivots the door of the fifth hall, the man who cries and prays aloud with great agony. By the life of Osiris, god of Amenti, if upon earth I said to thee, 'Rather may the fate of the peasant be thine than that of the rich man,' it was because I knew their fates, my father."
The 1973 translation says that Thoth had written down the misdeeds of the rich man and the poor man, and compared their deeds to their luck while on earth. So then based on that information, Osiris ordered that the poor man be given the burial equipment that the rich man had been buried with, which is how the poor man came to be dressed in the rich man's robes.

This is interesting to me, because it feels really, really Christian to me. I'm not sure if the Christian bent was introduced by the author of this book in 1915, or if it was there in the original papyrus. But this whole tableau really reminds me of Dante's inferno, and the new testament line when Jesus says "it is easier for a camel to go through the eye of a needle than for a rich man to enter the kingdom of God."

However, a study written by an H. Gressmann apparently makes a convincing case that this story, to quote the 1973 book, is made of "genuinely Egyptian motifs that formed the basis for the parable of Jesus in Luke 16:19-13 and the related Jewish legends"

Also, I notice that in this translation, it calls the afterlife hades as often as it calls it Amenti, so that betrays a major greek mythological influence.
The 1973 book mentions how this story is of course very much like the Greek tales of Tantalus and Sisyphus, as well as the tale of Orpheus descending into the underworld and Odysseus talking to ghosts.

The author talks about how this speaks to how Greek and Egyptian cultures mingled in Greco-Roman Egypt.

In an analysis on ancient.eu, there's an explanation that wealth wasn't seen as an evil in ancient Egypt. (For example, the Pharaohs were wealthy, but they were going to have a good afterlife.) But there's an Egyptian concept of truth, or ma'at, which is about balance and doing more good than bad. To read a bit:

What should be noted in this section of the story is what brings the two men to their respective fates: the poor man did "good works" while the rich man's misdeeds were greater than his good ones. This would have been understood as the difference between keeping ma'at as one's focus in life or putting one's self first before the good of others. The rich man would not have been punished for his wealth but for his selfishness and lack of concern for ma'at.

Setne then asks his son about the people who they saw being eaten by animals, and the others trying to grab food that was out of their reach.
And Se-Osiris says:

"In truth, my father, they are under the curse of the gods; they are those who upon earth wasted their substance, and the creatures who devour them without ceasing are the women with whom they squandered both life and substance, and now they have naught, though they should work day and night. And so it is with all: as they have been on earth, so it is with them in Amenti, according to their good and bad deeds. That is the immutable law of the gods, the law that knows no change and under which all men must come when they enter Hades."

In the 1973 translation, Se-Osiris ends their trip, saying:

Take it to your heart, my father Setne: He who is beneficent on Earth, to him one is beneficent in the netherworld. And he who is evil, to him one is evil. It is so decreed [and will remain so] for ever.

So then they descended from the mountains. Setne was freaked out, but Se-Osiris was calm, and said some magic words that would exorcise the spirits of the dead. I wonder if that's so they don't follow them back out?
It said that Setne never spoke to anyone about what he'd been shown, but always remembered it. (Of course, if he never told anyone, then this story couldn't be told–another indication that this is fictional.)
So then that story ends with "And when Se-Osiris was twelve years of age there was no scribe or magician in Memphis who was his equal in the reading of the magical books."
So the next story that features Se-Osiris is the tale of Se-Osiris and the Sealed Letter.
Let's talk about the other story, the tale of Se-Osiris and the Sealed letter.
In this story, a Nubian chieftan arrives at the Pharaoh's court, and declares that if an Egyptian magician can read the contents of a sealed letter, he will admit that Egypt is greater than Nubia. And if no scribe or magician could read the letter, then he'll spread tales of Egypt's weakness in Nubia.

The Pharaoh is distressed, and sends for his son, Setne.
Setne's pretty freaked out, and he asks Pharaoh for 10 days to figure out how to read the sealed letter. But in truth, he has no idea how to do it.
To read from Lictheim's translation, there's a great description of his despair:

Setne went to his house without knowing where on earth he was going. He wrapped himself in his garments from head to foot and lay down without knowing where on earth he was.

But then his son, Se-Osiris, comes in and asks him what's wrong.
Setne, sure that he'll be the reason why Egypt is put to shame, tells Se-Osiris the story. To his surprise, Se-Osiris starts laughing.
He tells Setne that this is no big deal, and Se-Osiris can read the letter easily.
Se-Osiris tells Setne to go downstairs to a chest of books, and says that without going downstairs, Se-Osiris will be able to tell Setne what each book is.
He's as good as his word, and Setne is thrilled. He runs to tell Pharaoh, who puts on a banquet for them that night.
Then, the next day, Pharaoh calls in the Nubian chieftan, and Se-Osiris reads the sealed letter.
The letter tells the story of three Nubian sorcerers from long ago, who brag to each other about all the things they could do to Egypt, like make the sun stop shining there for three days, or magically kidnapping the Pharaoh and beating him with a stick, or making all of their land barren for three years, but they said they can't do those things since they'd get in trouble with the god Amun and with the Pharaoh.
The ruler of Nubian hears that the sorcerers have been bragging about these skills, and he asks for the sorcerer who said he could magically kidnap the Pharaoh, beat him 500 times with a stick, and then return him to Egypt within 6 hours, to do it.
So the sorcerer makes a litter and figures to carry it out of wax, and gives them life using a magical spell. (This is similar to the prince's magical boat and crew in Setne I.)
And the sorcerer gives his creation their orders, and they go and kidnap the Pharaoh and bring him to be beaten before the Nubian ruler.
Se-Osiris pauses in the story and asks the Nubian chieftan to say whether he's reading the letter correctly, and the chieftan says he is.
And then Se-Osiris continues reading the letter:

The next morning, the Pharaoh asks his staff what happened while he was away from Egypt, and people kinda wonder if he's losing it.
The Pharaoh has to show them the marks on his back from being beaten, and tells them what happened to him.
They call in an Egyptian sorcerer, who realizes it was Nubian sorcerers who did this, and casts a spell over the Pharaoh and gives him amulets to protect him.
Then the sorcerer goes to the temple of Thoth and implores him for help, saying that since Thoth invented magic, he's now calling on Thoth to help him save the Pharaoh from the Nubian sorcerers.
That night, Thoth comes to the sorcerer in a dream and tells him where he can find a book of magic that Thoth wrote himself, which will help him. He hurries to get the book and then follows Thoth's instructions and creates a written amulet to protect the Pharaoh.
When the Nubian sorcerer's creations come to kidnap the Pharaoh again, they're unsuccessful because of this protective magic.
Then the Egyptian sorcerer creates his own wax figures with a litter, and has them capture the Nubian ruler so he can be beaten as the Pharaoh was.
The next day, the Nubian ruler is very angry with his sorcerer. He shows him the marks on his back and demands protective magic.
However, the protective magic doesn't keep the Nubian ruler safe, and for three nights in a row, he's kidnapped and beaten.
The Nubian sorcerer says that he must go to Egypt so he can confront the Egyptian sorcerer. Before going to Egypt, he visits his mom, who warns him to be careful, and says that the Egyptians' magic is stronger than the Nubians'.

To read a bit from the story:
He said : "There is nothing to the words you have said . I cannot avoid going down to Egypt if I want to cast my sorceries into it." The Nubian woman, his mother, said to him: " If it is so that you will go down to Egypt, set some signs between me and you , so that if you are defeated, I shall come to you and see if I can save you." He said to her : "If it happens that I am defeated , then when you are drinking [and eating], the water will take on the color of blood before you, the food before you the color of meat, and the sky will have the color of blood before you ."

So then the Nubian sorcerer goes to Memphis, to the Pharaoh's court, and confronts the Egyptian sorcerer, who recognizes him as someone who he'd saved from drowning once.
The Nubian sorcerer starts casting spells: first, he makes a fire break out in the court, but the Egyptian sorcerer calls down clouds from the south and makes them rain to extinguish the fire.
Then the Nubian sorcerer made a thick cloud fill the air so no one could see each other. But then the Egyptian sorcerer casts a spell to the sky, which chases out the cloud.
Then the Nubian sorcerer created a stone vault that penned in the Pharaoh, intending to trap him there forever. But the Egyptian sorcerer "created a sky-boat of papyrus" which carried away the stone.
At this point, the Nubian sorcerer realizes he's beat, so he turns himself into an invisible goose so he can escape, and fly away unseen. But the Egyptian sorcerer turns him visible again, and a hunter goes to hill the sorcerer-goose.
But at that moment, the Nubian sorcerer's mother sees the signs that he's in danger, and she turns herself into a goose and flies to save him.
The Egyptian sorcerer sees her and sets the hunter on her, but then the Nubian woman turns human again and begs for her life and the life of her son.
She says that if they're given a sky-boat to fly away in, they'll never come back to Egypt. The Egyptian sorcerer agrees, after the Nubian sorcerer promises not to return to Egypt in 1,500 years.
That's everything the papyrus said. Se-Osiris then tells the Pharaoh that those 1,500 years are up, and now the Nubian sorcerer has returned.
The Se-Osiris reveals that he's actually the Egyptian sorcerer from the story. After dying, he'd forseen that this would happen, so he begged Osiris, in the land of the dead, to let him return to the world of the living so he could save Egypt.
Osiris allowed it, which is why Se-Osiris was here now.
Then, Se-Osiris cast a spell and surrounded the Nubian sorcerer in flames, which consumed him.
Then, Se-Osiris vanished as a shadow.
Setne cried out, having missed his son disappearing.
He and his wife were devastated, but they were given another son soon after that.
But until he died, Setne would always make burnt offerings and give libations to the spirit of the sorcerer who has been his son Se-Osiris.

It's kind of a sad story, but a dramatic one.
One thing I did want to mention, since this story pits the Egyptians against the Nubians–some versions of the story describes the Egyptians as white and calls the Nubian leader the "black dog of the south." I read that that language isn't in the original text at all, and that those versions should be considered spurious and inauthentic.
One thing we talked about during the Victorian Egyptomania episode is how many Black activists during that time period sought to prove that the Egyptians were Black, and since they had such an advanced civilization, especially at a time when white people really didn't, that could potentially go a long way toward changing racist peoples' minds.
I did a bit of reading, and this is a really complicated and hairy topic. But I think it's safe to say that the ancient Egyptians were not white–a lot of modern scholars say that Ancient Egypt was ethnically diverse but not white–and that it's clear that some people have tried to doctor this story to have some racist implications. Though one thing that's worth noting is that ancient historians, including Herodotus, among others, described the Egyptians as being dark-skinned.

I'll link to a really interesting article with more info in the shownotes, so you can check that out if you want to learn more.

Next week, I want to talk about the real Prince Setne, as well as the book of Thoth, the magical book that appeared in both Setne I and Setne II.
Sources consulted RE: Se-Osiris, Ancient Egyptian Wizard
Books RE: Se-Osiris, Ancient Egyptian Wizard
Websites RE: Se-Osiris, Ancient Egyptian Wizard
Article about race and Ancient Egypt: https://talesoftimesforgotten.com/2020/04/23/were-the-ancient-egyptians-black/
https://en.wikipedia.org/wiki/Ancient_Egyptian_race_controversy
https://en.wikipedia.org/wiki/Black_Egyptian_hypothesis
https://www.quora.com/Is-the-claim-that-the-ancient-Egyptians-were-black-had-dark-skin-supported-by-history-If-not-what-race-were-they-and-how-do-we-know?share=1
https://en.wikipedia.org/wiki/Book_of_Thoth
https://www.ancient.eu/article/1054/the-tales-of-prince-setna/https://www.ancient.eu/article/1056/setna-i-a-detailed-summary–commentary/
https://www.ancient.eu/Khaemweset/https://en.wikipedia.org/wiki/Ra
https://en.wikipedia.org/wiki/Late_Egyptian_language
https://en.wikipedia.org/wiki/Egyptian_hieroglyphs
https://en.wikipedia.org/wiki/Cursive_hieroglyphs
https://en.wikipedia.org/wiki/Hieratichttps://en.wikipedia.org/wiki/Demotic_(Egyptian)
https://en.wikipedia.org/wiki/Coptic_languagehttps://en.wikipedia.org/wiki/Coptic_Catholic_Church
https://en.wikipedia.org/wiki/Rosetta_Stonehttps://en.wikipedia.org/wiki/History_of_Egypt#Greek_rule
https://en.wikipedia.org/wiki/Cleopatrahttps://en.wikipedia.org/wiki/Ptolemaic_Kingdom
https://en.wikipedia.org/wiki/Twenty-seventh_Dynasty_of_Egypt
https://en.wikipedia.org/wiki/Darius_the_Great
https://en.wikipedia.org/wiki/Xerxes_I
https://en.wikipedia.org/wiki/Nubia
https://en.wikipedia.org/wiki/Egypt_(Roman_province)
https://en.wikipedia.org/wiki/Imhotep
https://en.wikipedia.org/wiki/Imhotep_(The_Mummy)
https://en.wikipedia.org/wiki/Duat
https://en.wikipedia.org/wiki/Osiris
https://en.wikipedia.org/wiki/Anubis
https://en.wikipedia.org/wiki/Ammit
http://www.egyptianmyths.net/mythsealletr.htm
http://www.perankhgroup.com/The%20Sealed%20Letter%20-%20Se%20osiris.htm
http://www.egyptianmyths.net/section-myths.htm
https://www.ancient.eu/article/1057/setna-ii-a-detailed-summary–commentary/
https://en.wikipedia.org/wiki/Ptah
https://en.wikipedia.org/wiki/Memphis,_Egypt
https://www.ancient.eu/article/885/egyptian-gods—the-complete-list/
https://en.wikipedia.org/wiki/Ennead
https://en.wikipedia.org/wiki/Thoth
https://en.wikipedia.org/wiki/Ouroboros
https://en.wikipedia.org/wiki/Osiris
https://en.wikipedia.org/wiki/Crook_and_flail
http://ib205.tripod.com/setne_2.html
https://en.wikipedia.org/wiki/Osiris
https://www.ancient.eu/article/1054/the-tales-of-prince-setna/
https://en.wikipedia.org/wiki/Greek_Magical_Papyri
https://en.wikipedia.org/wiki/Tale_of_Setne_Khamwas_and_Si-Osire
https://en.wikipedia.org/wiki/Khaemweset
https://www.thetorah.com/article/yhwhs-war-against-the-egyptian-sun-god-ra
http://www.touregypt.net/featurestories/magic.htm
http://www.egyptsearch.com/forums/ultimatebb.cgi?ubb=next_topic;f=15;t=002869;go=older
http://www.attalus.org/egypt/setne.html
http://vr.theatre.ntu.edu.tw/hlee/course/th6_520/sty_egy/minor/seallet.htm
https://amp.reddit.com/r/AskHistorians/comments/dcpm06/in_the_story_of_se_osiris_we_discover_ancient/
https://www.ancient.eu/article/1054/the-tales-of-prince-setna/
https://books.google.com/books?id=5z3CAgAAQBAJ&lpg=PT336&ots=gonD6AeP9c&dq=se-osiris&pg=PT336#v=onepage&q=se-osiris&f=false
https://www.louvre.fr/en/oeuvre-notices/mortuary-mask-khaemwaset
https://www.louvre.fr/en/oeuvre-notices/bas-relief-prince-khaemwaset
https://www.brooklynmuseum.org/opencollection/objects/3441
https://onlinelibrary.wiley.com/doi/pdf/10.1002/9781444338386.wbeah15225
https://www.brooklynmuseum.org/opencollection/objects/46579
http://www.globalegyptianmuseum.org/detail.aspx?id=1096
https://www.britishmuseum.org/collection/term/BIOG54170
https://www.oxfordreference.com/view/10.1093/oi/authority.20110803100035505
https://www.bbc.co.uk/history/ancient/egyptians/death_sakkara_gallery_04.shtml
http://www.joanannlansberry.com/fotoart/brklyn/khaemwaset.html
http://carlos.digitalscholarship.emory.edu/items/show/8035
https://egyptmanchester.wordpress.com/2014/03/13/prince-khaemwasets-signature-deposits-being-part-of-history/
https://www.academia.edu/1042964/_Khaemwaset_in_The_Encyclopedia_of_Ancient_History_Blackwell_2013_
http://www.ancient-egypt.co.uk/roscicrucian/pages/rosicrucian%20museum%2C%20San%20Jose%2C%20May-2005%2C%20259.htm
http://www.digitalsculpture.org/egypt/main/model/d5b9dfb529b94903974f748c2b315829
https://en.wikipedia.org/wiki/Book_of_Thoth
Listen to the Ouija board series:
Don't miss our past episodes:
The Renwick Ruin:
Investigating the Hawthorne Hotel: 
Buried Secrets Podcast Newsletter
Join the newsletter to receive the latest updates in your inbox.