Riker Home and Cemetery: Part 2 (Hidden Cemeteries)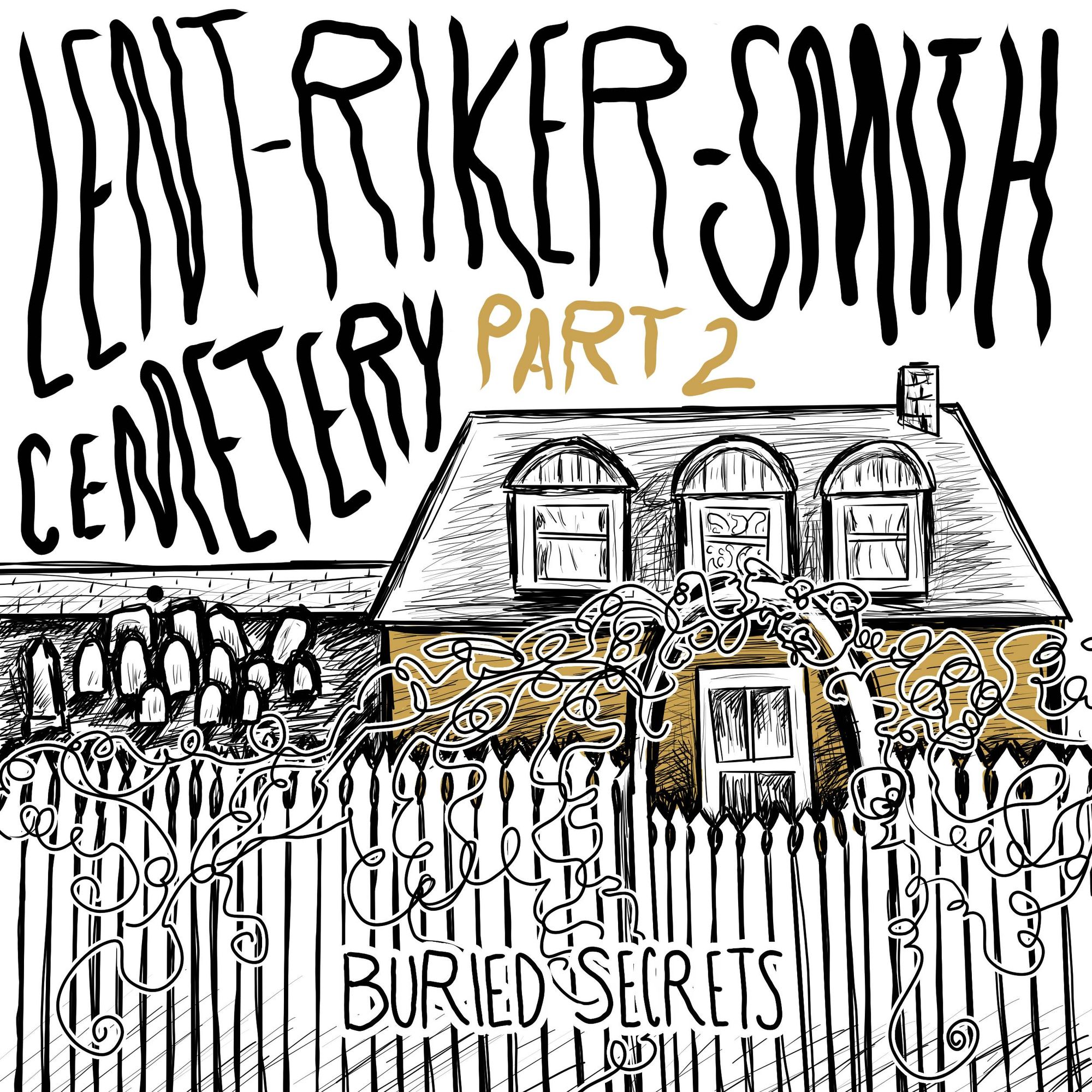 A look at the remarkable Riker Home and Cemetery, or the Lent-Riker-Smith Homestead and Cemetery, which one woman's dream and grit turned into a beautiful site with a secret garden.
Highlights include:
• A unique second date
• A collection of vintage ventriloquist dummies
• Fun historic home renovation details
Note: There's discussion of chattel slavery and being held captive against one's will near the end of this episode.
Pictures of the Riker Home and Cemetery

Episode Script for Riker Home and Cemetery
DISCLAIMER: I'm providing this version of the script for accessibility purposes. It hasn't been proofread, so please excuse typos. There are also some things that may differ between the final episode and this draft script. Please treat the episode audio as the final product. 
So, let's talk about this homestead and cemetery.
The house is near the water, and I get the sense it used to be even closer. An old article from the 1930s that was posted on rikerhome.com, the home's official website, talks about how in the old days, ships used to dock near the house, and during the War of 1812, local people gathered on the nearby shore to watch a naval battle on the Long Island Sound.
The house was built around 1656 by Abraham Rycken, who was a Dutch farmer. Or maybe it was actually built by a man named Harck Siboutsen–the story varies.
A lot of the stuff I've been reading from correctionshistory.org comes from a book called The Rikers: Their Island, Homes, Cemetery and Early Genealogy in Queens County, NY by an 11th generation Abraham Rijcken van Lent descendant, Edgar Alan Nutt. I wanted to read a bit more, but before I read, if you've listened to the last few episodes, you'll be VERY happy that I've figured out how to pronounce the name spelled "Rapelye," which I've been pronouncing all different wacky ways. According to Annals of Newtown, the family is descended from the de Rapalie or Rapalie family, so I think that must be how it's supposed to be pronounced, though I don't know what they were doing adding that weird y in the middle of the name.
So anyway, reading from correctionshistory.org:

The quaint Dutch farmhouse on a one acre lot in Jackson Heights . . . is the oldest in Queens County and one of the oldest, if not the very oldest, private homes that remain in New York City, and it is known by various names reflecting several of the families that have owned it over the years.
Members of the Lent family owned it and the farm that went with it for about seventy years, the Rapelye family for close to a hundred years, and a Riker estate for almost twenty years in the last century, and the three families were interrelated.

Reading more from the excerpts of Edgar Alan Nutt's book:

The house, in its current condition, is distinctive with its three dormer widows and with its swooping roof that projects eaves far beyond the walls; however, none of those features is original. One exterior wail is field stone, the others are shingled.

And just to interject, those dormers are really cool and beautiful, and one of them has a really nice stained glass pattern on it. I'm not totally sure when it's from but it feels 19th century to me.
And back to Nutt's book:

Inside there are now four rooms downstairs and four upstairs. The original house, whether or not it remains a part of what now exists, was a one story, single room, primitive structure . . . The bedroom and kitchen are the rooms of Abraham Lent's 1730 house while the other two rooms are 18th century additions. A small entrance room, utilizing the depth of the eaves, was added late in the last century.
The second floor space under the roof may have early been used for storage, or it may have been used as the sleeping quarters for children, but the addition of the dormer windows allowed for the creation of four bedrooms upstairs.

If you want a very great, detailed history of the house's different owners, you can check out Edgar Alan Nutt's book or correctionshistory.org, but it's too much history for me to go into here. But eventually, a man named Michael M. Smith rented the house, and he ended up buying it in 1975, 1978–or maybe 1965, I've read all three dates, though I think the 1965 one is wrong.
Apparently the owner of the house, Michael Smith's landlord, wanted to move the house to a different location, but put it up for sale after her learned it was illegal. So Smith bought it, though apparently he only lived there a few years, and then moved to the city. (Btw, I can't remember if I've mentioned this before, but for non-NYC people, FYI: even though I technically live in NYC, like many outerborough residents, I tend to call Manhattan The City. It's kind of a funny habit since I obviously also live in a very urban area here in Astoria, and I try to say Manhattan here when I remember, but I thought it was worth mentioning in case that confused anyone.)
So after Michael moved to the city, he basically just used the house for storage, and local kids thought of the home as the local abandoned haunted house.
I wanted to read a great bit from a quote from the current owner, Marion Duckworth Smith, from her website:

"The first time I saw the house it was a cold. Desolate night in November, 1979. I had known Michael for a month. We were on our second date.
"Where are we going?" I inquired. "How would you like to see my cemetery?" he said.
His house stood abandoned in Jackson Heights, Queens. It had been unoccupied for almost four years. It was known as the "haunted house" of the neighborhood and it had repeatedly been burglarized and robbed.
"And he really did have his own cemetery, behind the house. It was the burial ground for the once prominent Riker family, among the first Dutch settlers in this area…I stood shivering in the middle of the neglected cemetery, surrounded by broken, toppled and shattered headstones, shaking my head, not believing a place like this could still exist in New York City. The house itself was dark, cold, cluttered, and sagging; it seemed shrouded in mystery and ready to cry…"

One note: I know I've called this area Astoria, Jackson Heights, and East Elmhurst at different points. That's just Queens for you. I used to live a bit south from here, and I couldn't tell you what the neighborhood I lived in was called (I had a Woodside address but no one in Queens would have called where I lived Woodside.)
And another detail I read about Marion's first visit to the homestead: the electricity to the building had been turned off, so Michael had to light candles to show her around.
So anyway, after Marion and Michael got married, Michael asked if Marion wanted to live in the city, or in the old house. She asid the old house, of course, so they got to work restoring the house. The home had been vandalized and robbed while it had stood empty, and Michael had been storing stuff in there that had to be moved out. It took Marion 6 months to clear out everything and clean up the house enough so they could move in.
They started in the attic, which hadn't really been disturbed in more than a century at that point. The Riker family had told their tenants not to go into the attic–it was a forbidden area.

Marion spent 3 months sifting through the materials in the attic and reading everything.
There were estate records dating back to the 1880s, including 54 hardcover financial directories, as well as ephemera and household objects like a potbelly stove, wooden blinds, bottles, and cabinets. There were also letters, a will, and things like receipts for animal feed from when it was a farm.
Marion spent days cleaning everything out of the attic once she finished going through it all, and she got so tired walking up and down the stairs so many times that she ended up opening the window and throwing debris out.

I want to read a bit more from Forgotten NY, which is where I found the quotes from the Old-House Journal. This includes more quotes from Marion Smith:

"We were lucky enough to find a retired neighbor, Mr. Osso, [who did the] sanding, painting, fixing and stripping. I didn't mind hard work either, so he and I developed a great working arrangement. He did most of the stripping while I pushed, pulled, dug, scribbed, crawled and said goodbye to my fingernails. I may have found my prince but I still felt like Cinderella, always down on my knees working while everyone else got to go to the ball." Under the gold shag 1960s carpeting and linoleum, Mrs. Smith and Osso found the building's 300-year-old wood plank floors.

The floors had apparently been painted black so they had to restore them
Here's Marion on the kitchen:

"The kitchen had a Formica countertop and linoleum on the floor…poor house, so humiliated, so misunderstood….it took a couple of months to find a scrubbed-pine sideboard just the right size to convert. We took off its wood top, selected tiles for the surface, bought a stainless steel sink. Voila, our piece de resistance."

The dining room of the home was apparently used as a tavern by revolutionary war soldiers. Marion has decorated it with pastel drawings done by her mother.

. . . How I wished I could go back in time to this very spot 300 years ago, and see the room as it was then! I knew that whoever was here then must have felt the same as we did now – full of the excitement and expectation of finishing a room, creating a home. Pete and Bill [two helpers] told me that the beams in the dining room originally come from a barn. This too filled me with images of those long-ago Rikers, razing a barn somewhere to begin the venture of building this homestead. Another missing piece to a puzzle, another bit of history retrieved…

Like all old buildings that I talk about here, it did catch fire at one point. The house was damaged by a fire during the 1950s, so a lot of the floors had been damaged and had been sloppily replaced, so Marion had to source new wood for the floors, when she found when an old barn was demolished in upstate NY.
There are a ton of cool antiques inside the home which Marion has collected, including chalkware figurines, which were carnival prizes given out during the early 20th century. Those are in the mudroom. She has an 1888 Steinway grand piano, chandeliers from the townhouse of the NYC ballet's co-founder, and also random objects that once belonged to George Balanchine. She also has a collection of ventriloquist dummies. There's a great article in untapped cities that has pictures of all of this, so I'll include that in the shownotes.
So let's go outside. The fences surrounding the property are covered in overgrown brambles and vines, which you'll be able to see in the pictures I put in the shownotes and on instagram. It's really hard to get a good picture looking in, at least on my cheap $50 smartphone; I should really bring my camera next time. But I bet that once the spring gets on and flowers start blooming and everything is green, it must be really pretty. It is in the pictures at least.
There's a 2006 NYT article that talks about how a plant expert has said that wisteria growing on the archway outside the house appears to be over 300 years old.
Let's go to another quote from Marion Smith:
"I decided to take a breather from the indoor work and start on the outside. Visions of a secret garden, gazebo and circular porch danced through my head. 'Paradise Acre,' that's what I'll call it."
So looking in from the street, the property has a huge yard, even by suburban standards, with the cemetery in the middle, surrounded by a stone fence. Then all around it, Marion Smith has created a sort of Secret Garden. There's also a Victorian-style gingerbread cottage, which is very cute but which I couldn't get a great picture of.
Apparently for years, Marion and Michael would look for adornments to add to the garden on a weekly basis. It contains objects like urns from the Steinway Mansion (one of which I think I was able to see from outside), as well as a fountain.
There's also a gazebo which was built to commemorate Marion and Michael's 10th wedding anniversary; it's partially constructed from spokes that Marion found in the attic.
There are plaques on either side of the front door designating the home's historic nature. There's also a large cow statue in the front lawn, which I saw through some overgrown brambles when I visited. According to Forgotten NY, it's a leftover cow from the cow parade in NYC in 2000. You see those around sometimes; there used to be one on an awning at St. Mark's Place in the city, and just the other day I saw a cow parade cow that had fallen over and was lying on its side in the lawn of a mansion in old Astoria, just north of St. George's Church.
Then, of course, there's the cemetery.
When Marion first moved in, the cemetery gate was missing the K in Riker, but she wasn't sure where to get a replacement. After a 2006 NYT article about the home, she received a package in the mail containing the letter, which a Riker descendant had found on the ground when visiting the abandoned home, and taken when he thought it was going to be demolished. He sent it back when he learned that the home was being restored.
I'm sorry that I'm reading so much from Nutt's book, but he describes all of this so well:

Originally what is now the Riker Cemetery was simply an informal space for family burials close to a farm house in an area that was barely two generations removed from pioneer settlement.
Now it is a walled sanctuary in a tiny island remnant of rural land and domesticity surrounded by the streets and buildings and activities of the modern industrial age, further removed than it had been from Bowery Bay and just several hundred yards from LaGuardia Airport.
. . . There is no telling when the first burial took place or who the decedent was. In 1919 there were one hundred and thirty-two grave stones or markers, including one that was only a memorial cenotaph, but fourteen of these have no inscriptions whatsoever, twelve have only initials, and four are damaged leaving incomplete or unreadable inscriptions.
In addition to the one hundred and thirty-two, and in addition to the markers for the several burials that have taken place since 1919, there may be markers that over the years have fallen flat and now lie covered and buried beneath accumulated soil, as has happened in many very old . . . graveyards.

It sounds like some people say the earliest burials there are from 1721, but it sounds like people have struggled to say for sure. The second Abraham Riker was buried there in 1746, and that was the first official, for-sure known burial.
A later Captain Abraham Riker was buried there in 1778, after dying at Valley Forge during the Revolutionary War, when he was 38 years old.
Apparently in the 1930s, several gravestones were stolen by vandals who used them for stepping stones. It's unclear if they were ever returned.
At some point, possibly during the 1950s, an airplane parts factory was built just west of the cemetery, and the construction process for that damaged the cemetery a bit, though that may have been repaired.
So I know you've been wondering this whole time: Is this house haunted?

Well, I found a delightful story in the Long Island Press from March 17, 1968, headlined "This House May Be Haunted: Ghosts Gambol in the Backyard"

The article does touch on some of the house's darker history. It quotes Marion as saying, "There are chains in the basement that supposedly were used to imprison slaves."
The article also says that there was supposedly a hidden passage from the basement to the bay, which was used for smuggling.
It also mentions that Captain Kidd's widow, who ended up marrying into the Riker family, is buried in the cemetery, as is George Washington's surgeon.
I'm a little confused of when the Smiths lived in the house, but the article says they moved in two years before, so that would've been 1966.
However, aside from the flashy title, the article does not mention ghosts, sadly, though I would be surprised if it wasn't haunted.

Unfortunately, Michael Smith passed away in 2010. He's buried in the cemetery, as is Marion Smith's brother and mother. Some other non-Rikers are buried in the cemetery, including Rudolph Durheim, a Swiss pensioner who died in 1944 after being the cemetery's caretaker in the 1930s and 40s.
Marion Smith wrote a book that was published in 2004 called "The Romantic Garden", which features beautiful pictures of her secret garden. ANd before the pandemic at least, still gave tours of the house. I really, really want to go on one of those tours as soon as covid is over.
Marion wants to live there the rest of her life, and then she hopes it will be permanently opened to the public.
I wanted to close on what is apparently Marion's favorite inscription in the cemetery:

 "Weep not my friends all dear, I am not dead but sleeping here. The debt is paid, my grave you see, Prepare for death and follow me. My flesh shall slumber in the ground Till the last trumpet's solemn sound; Then burst the bands in sweet surprise, And in my savior's image rise."
Sources consulted RE: the Riker Home and Cemetery
Books
Websites
Untapped Cities article: https://untappedcities.com/2011/12/22/the-last-riker-house/
https://www.yelp.com/biz/lent-riker-smith-homestead-east-elmhurst
https://en.wikipedia.org/wiki/Lent_Homestead_and_Cemetery
https://www.rikerhome.com/
https://forgotten-ny.com/2006/09/lent-riker-smith-mansion/
http://www.correctionhistory.org/html/chronicl/nycdoc/html/rispan2.html
http://www.correctionhistory.org/html/chronicl/nycdoc/html/buono.html
http://www.correctionhistory.org/html/chronicl/nycdoc/html/qnsboro2.html
https://en.wikipedia.org/wiki/Rikers_Island_Bridgehttps://en.wikipedia.org/wiki/Rikers_Island
https://en.wikipedia.org/wiki/Bronx_court_system_delayshttps://en.wikipedia.org/wiki/Roosevelt_Island
https://www.officialdata.org/us/inflation/1884?amount=180000
http://www.correctionhistory.org/html/chronicl/cw_units/html/rikersbook001.html
http://www.correctionhistory.org/html/chronicl/cw_units/html/rikersbook002.htmlhttp://www.correctionhistory.org/html/chronicl/cw_units/html/rikersbook004.html
http://www.correctionhistory.org/html/chronicl/cw_units/html/rikersbook005.htmlhttp://www.correctionhistory.org/html/chronicl/cw_units/html/rikersbook006.html
http://www.correctionhistory.org/html/chronicl/cw_units/html/rikersbook007.html
http://www.correctionhistory.org/html/chronicl/cw_units/html/rikersbook009.htmlhttp://genealogytrails.com/ny/queens/cem_rikers.html
http://homepages.rootsweb.com/~ryker2/ryker_coatofarms.htm
https://www.nytimes.com/2006/10/11/nyregion/11farmhouse.html?_r=1&oref=slogin
https://www.rikerhome.com/press/li-press-1968_large.htm
https://www.rikerhome.com/press/lisj-1941_large.htm
https://www.rikerhome.com/press/1930s.htm
https://www.rikerhome.com/press/sunday-news-1942_large.htm
https://www.nytimes.com/1982/05/16/realestate/postings-little-paradise.html
https://www.rikerhome.com/press/queens_courier_mds_05-25-06.pdf
https://www.thirteen.org/queens/map.html
https://www.rikerhome.com/press/queens_courier_mds_06-15-06.htm
https://www.nytimes.com/2006/10/11/nyregion/11farmhouse.html?_r=1&oref=slogin
https://www.rikerhome.com/press/ny-daily-news-11-7-06.htm
Don't miss past episodes:
The Renwick Ruin:
Investigating the Hawthorne Hotel: