Lent-Riker-Smith Homestead and Cemetery: Part 1 (Hidden Cemeteries)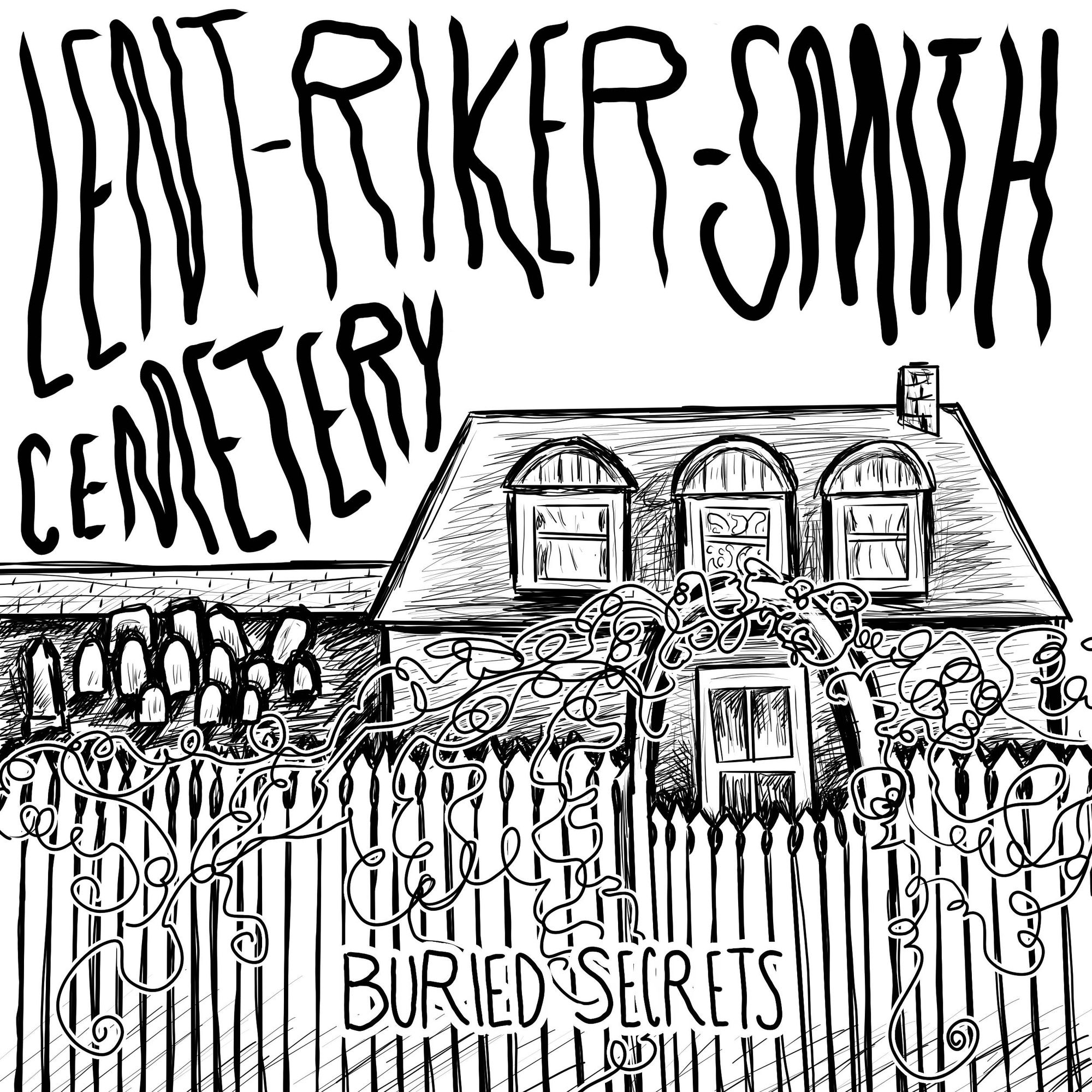 A look at the Lent-Riker-Smith Cemetery, a hidden family graveyard tucked away behind one of the oldest homes in New York City, which is still a private residence.
This is part 1 of the history of the little-known Lent-Riker-Smith Homestead and Cemetery. This episode focuses on the history of nearby Riker's Island, as well as the Riker family, and sets the scene for next week's deep dive into the home and cemetery's more recent history, and what they're like now.
Highlights include:
• Spontaneously combusting garbage
• Gatsby's Valley of Ashes
• A grim modern-day penal colony
• Exploring an off-the-beaten-path neighborhood
Links mentioned in the episode:
Donate to the Emergency Release Fund to get high-risk people out of Rikers
Tiffany Cabán for council district 22 (Astoria): https://www.cabanforqueens.com/
The Feminine Macabre Volume 1: https://spookeats.com/femininemacabre/ 
Pictures of Lent-Riker-Smith Cemetery

Episode Script for Lent-Riker-Smith Homestead and Cemetery Part 1
DISCLAIMER: I'm providing this version of the script for accessibility purposes. It hasn't been proofread, so please excuse typos. There are also some things that may differ between the final episode and this draft script. Please treat the episode audio as the final product. 
This week, I'm excited to talk about the Lent-Riker-Smith Homestead and Cemetery here in Queens, NY. The homestead is the oldest home in NYC that is still a home, and was originally built in the 1600s.
I realize that I've said that this cemetery is in Astoria before, but technically it's in a neighborhood called East Elmhurst, which is a neighborhood that's basically just east of northern Astoria, which I talked about last week, and just west of LGA airport.
To give it some context, here's a quote from 2006 NYT article about the homestead:

In a city virtually defined by real estate mania, it has had just a handful of owners. In a city where compact housing is the norm, it boasts a comfortable two-story house on a lavishly cultivated acre. In a borough known for sprawling cemeteries, it has a small one of its own.

I also wanted to read a bit from an amazing forgotten new york article about the house and cemetery, which situates it really well:

"It's almost maddeningly impossible to find. The closest subway is approximately 35 blocks away. It's surrounded on 3 sides by a high school, stockade fencing and barbed wire. The nearest businesses are bail bonds joints. It's situated on one of Queens' oldest highways, most of which was demapped decades ago.
It is arguably the most beautiful home in Queens, and one that has been rescued from total ruin by the passion and vision of one couple who gave the house a chance when no one else would. It was built in stages beginning in the mid-1600s and has undergone periods of ascendancy and ruin, passing through many families who kept it in various conditions of upkeep. It has had many names, but the one adopted by its owners is the Lent Riker Smith Homestead or Lent Riker Smith House."

 I actually biked to the homestead this weekend, and I passed Lawrence Cemetery on the way there.
It's kinda a weird area. For one thing, the back of the homestead is basically directly across the street from the bridge to Riker's Island, which I've talked about a lot in the past, including last week. It's a very bad jail housing mostly people who have not been convicted of a crime. Especially in the Bronx, the court system is really backed up, so people suspected of crimes there are often deprived of their right to a speedy trial. There have been cases of people waiting in Rikers for 5 years or more while awaiting trial, only to go to trial and be acquitted. Only 15% of people who are imprisoned there have been convicted of a crime, and those are just people serving short sentences.
There are 10 jails on the island, which supposedly can house up to 15,000 prisoners, though it's usually more like 10,000. It's been called the world's largest penal colony, and it's a very bad place to be.
And if you want to help get high-risk people, like queer people, out of there, check out https://emergencyreleasefund.com/ which is a bail fund.
I'd looked at a map before leaving for the homestead, and figured I'd follow the signs to Riker's Island and it should be pretty easy. Well, there aren't really wayfinding signs to Riker's Island, for I guess obvious reasons, but I did follow the Q100, the bus that goes to Riker's, for a while.
I ended up having to look at the map again, but found the entrance to the Riker's Bridge at Hazen Street and 19th avenue.
I will say, the road that goes across the bridge to Riker's is very unassuming. I don't really know what I was expecting, but the area just feels like a lot of other quiet industrial areas of Queens. According to correctionshistory.com, the 5,500 foot long bridge was built in 1966 and is three lanes plus a six-foot sidewalk. Before it was built, people had to take a ferry to Riker's. The construction of the bridge spurred additional development of Riker's Island, and a womens jail was built in 1967, some sort of jail for adolescents was built, as was a "power plant addition."
However, right before the bridge to Riker's there's an enormous, billboard-sized sign that reminded me a bit of the signs you see outside roadside tourist attractions. It was a huge, well-maintained thing, and it felt really incongruous.
I want to pause here to talk a bit about the history of Riker's Island, before it was a prison, since it has a bearing on today's cemetery.
Riker's Island has some similarities to Blackwell's Island (now Roosevelt Island), which I've talked about in many past episodes, so if you've listened to those, some of this may sound familiar.

Riker's is named after a Dutch settler, Abraham Rycken, who took ownership of the island in 1664.
As far as its pre-colonial history, according to native-land.ca, it looks like the Matinecock, Lenape, and Wappiner peoples lived in the general area, though I'm not super sure of the island's history before Rycken came into the picture.
The Rycken family became the Rikers.
There was a bit of interesting information on correctionhistory.com about how some of the Rikers lived on the island in the 1840s; to read from that:

"Living on the island necessitated having both a boat and tools to build or maintain a boat, and it required being able to make as well as to repair iron ware and tools. The farm, or at least Abraham's part of it, was an active one, in spite of his age; he raised hay, corn, and flax, and livestock included at least one cow, although apparently not a horse.
The household items are more surprising: eight bedsteads and twelve matresses together with twenty-four chairs suggest a large house or perhaps the means of sqeezing many people into a small house. Two bird cages and a quantity of books suggest that all was not work."

And here's another interesting anecdote from correctionshistory.com:

"The remoteness of Riker's Island appears to have made it irresistible in the 1850s as a site for what the area newspapers called the "disgusting spectacle" of prize fights which were seen as contrary to the public good, if not outrightly illegal.
During the night of April 27, 1852, three chartered steamboats transported friends and others from lower Manhattan to Riker's Island; the fight between Phil Clare and Englishman George Leese began after daybreak and lasted for nine rounds in 21 minutes; it ended with the latter being knocked out and with a resulting riot.
The next year on the morning of March the first a 15 minute bout between Adams and Connaty, attended by several hundred, resulted in Connaty's winning the $150 prize. It was noted that the authorities made no attempt to prevent or to stop the fight, but the following day Adams was caught and subsequently sentenced to six months in prison. This fight was arranged by one Robert Lees about whom nothing further has been learned."

During the Civil War, the island was used by union soldiers as a military training ground.
In 1884, the Rikers sold the island to the city for $180,000 ($4.8 million in today's money.)

For comparison, you may remember from previous episodes that the Blackwell Family sold Blackwell's Island to the city in 1828 for $32,000 $885,000 in today's money.) I'm not totally sure why the city paid so much more for Riker's, especially since Blackwell's Island is more conveniently located, and they were both being purchased for a similar purpose, though I know I'm getting a little off track.

The idea behind purchasing Rikers was that it would be the location of a workhouse. In the 1920s, the city got the idea of building a jail on Riker's, especially because of horrendous conditions at the jail on Welfare Island (a short-lived name that Blackwell's/Roosevelt Island had).
You may remember from a previous episode that in 1932, the jail on Riker's Island was opened.
The city expanded the size of the island through landfill. The island started off at 90 acres and ended up being 415 acres, so it basically quadrupled in size. And as the island got bigger, they built more and more jail facilities.
Now, if you listened to my episode about Socrates Sculpture Park, or if you've read The Great Gatsby and remember the bit about the Valley of Ashes, you know that Queens has a penchant for dumping garbage, both legally and illegally.

In 1922, the was city banned from dumping garbage in the ocean, so they did the next best thing, and dumped garbage on Riker's Island. (Which, while I guess it technically isn't Queens, it's close enough.)
At the time that the city was banned from throwing garbage in the ocean, Riker's Island already had 12 mountains of garbage that ranged from 40-130 feet tall. Eventually, the island ended up with 1.5 million cubic yards of additional garbage, which is more volume than the amount of dirt displaced from the World Trade Center's construction.
I'm just gonna read a particular evocative bit of the wikipedia page here:

Since much of the garbage was composed of ash from coal heating and incinerators, there were frequent spontaneous phosphorescent fires, even in the wintertime, in the snow. One warden described it in 1934: "At night it is like a forest of Christmas trees – first one little light … then another, until the whole hillside is lit up with little fires. … It was beautiful." The island was also plagued with rats, which at one point were so prevalent that after "poison gas, poison bait, ferocious dogs and pigs" failed to control them, one New Yorker tried to organize a hunting party to kill them off.

The 1939 World's Fair was held in Queens, in F. Scott Fitzgerald's Valley of Ashes, and to clean things up for the world's fair, the garbage was finally packed up and moved to Fresh Kills Landfill, in Staten Island.
Oh, and another fun fact about Riker's is that the island is so close to the runway at LGA that in the 1950s, a plane crashed on Riker's right after takeoff.

So that's a bit of Riker's Island history. It's an ugly history, but many of us in Queens and NYC in general are hopeful that Riker's can be closed and the terrible jails can be replaced with something better. As usual in NYC, it was looked at as a possible place for–you guessed it–real estate developers to build some low rise housing, but since the base of the island is a landfill, toxic gas leaks out, and that would be an issue.

There's a way better plan that many people support, including my current city council representative, whose term ends this year, as well as by city council candidate Tiffany Caban, who Astoria residents can vote for on June 22 (check out cabanforqueens.com for more info.) That plan, which I mentioned last week, is to build infrastructure to generate green energy, which would be good for everyone, would create some good new jobs for people in the area, etc.

Alright, so that's Riker's Island. Let's get back to the mainland, to the area around the Riker-Lent-Smith-Homestead, which I explored by bike this past weekend.
It's pretty far from mass transit, so I get the feeling that everyone has a car there. It's very quiet, aside from low-flying airplanes. It's the part of Queens where it's not unusual to see jet skis or a boat in someone's driveway.

Also, just something I happened to notice because I got a new bike this weekend and this was only the second time I'd ridden it, all the streets and sidewalks around there are totally strewn with broken glass. It just looks like someone decided to throw glass bottles everywhere, which is awesome. But I think my bike tires survived.

So anyway, the area near the Lent-Riker-Smith homestead feels very suburban, though many of the homes are attached, and there are still a number of small apartment complexes, like the very pretty Tudor that's right across the street from the homestead.
I've mentioned the Riker family in past episodes and a little bit so far this time, but basically the Rikers were a really important Queens family. One of the sources I've used throughout this series on hidden Queens cemeteries is an 1852 book called The annals of Newtown, in Queens County, New York, which is actually written by a Riker, James Riker.

Looking through Riker's book, which includes the family histories of all of the important families of the area, there's a great drawing of the Riker's coat of arms, which I think is way cooler than the Lawrences', which I talked about last week. It's an azure shield with three golden stars surrounding a white rose, with ornate filigree at the top and tumbling down the sides, topped by a knight's helm and horns with a rose in the middle. Apparently there was a later coat of arms, from 1225, which had bears on it.
The Rikers could date their history back before the crusades. A Hans von Rycken, a knight, and his cousin, Melchior von Rycken, were part of the first crusade in 1096. They were part of a group of 800 crusaders who were part of Walter the Penniless' army. Don't know who he is, but that isn't a very promising name. Hans died, but Melchior lived.
The American Rikers descended from a branch in the family who lived in Amsterdam.
Sources consulted RE: Lent-Riker-Smith Cemetery
Books
Websites
https://www.yelp.com/biz/lent-riker-smith-homestead-east-elmhurst
https://en.wikipedia.org/wiki/Lent_Homestead_and_Cemetery
https://www.rikerhome.com/
https://forgotten-ny.com/2006/09/lent-riker-smith-mansion/
http://www.correctionhistory.org/html/chronicl/nycdoc/html/rispan2.html
http://www.correctionhistory.org/html/chronicl/nycdoc/html/buono.html
http://www.correctionhistory.org/html/chronicl/nycdoc/html/qnsboro2.html
https://en.wikipedia.org/wiki/Rikers_Island_Bridgehttps://en.wikipedia.org/wiki/Rikers_Island
https://en.wikipedia.org/wiki/Bronx_court_system_delayshttps://en.wikipedia.org/wiki/Roosevelt_Island
https://www.officialdata.org/us/inflation/1884?amount=180000
http://www.correctionhistory.org/html/chronicl/cw_units/html/rikersbook001.html
http://www.correctionhistory.org/html/chronicl/cw_units/html/rikersbook002.htmlhttp://www.correctionhistory.org/html/chronicl/cw_units/html/rikersbook004.html
http://www.correctionhistory.org/html/chronicl/cw_units/html/rikersbook005.htmlhttp://www.correctionhistory.org/html/chronicl/cw_units/html/rikersbook006.html
http://www.correctionhistory.org/html/chronicl/cw_units/html/rikersbook007.html
http://www.correctionhistory.org/html/chronicl/cw_units/html/rikersbook009.htmlhttp://genealogytrails.com/ny/queens/cem_rikers.html
http://homepages.rootsweb.com/~ryker2/ryker_coatofarms.htmhttps://untappedcities.com/2011/12/22/the-last-riker-house/
https://www.nytimes.com/2006/10/11/nyregion/11farmhouse.html?_r=1&oref=slogin
https://www.rikerhome.com/press/li-press-1968_large.htm
https://www.rikerhome.com/press/lisj-1941_large.htm
https://www.rikerhome.com/press/1930s.htm
https://www.rikerhome.com/press/sunday-news-1942_large.htm
https://www.nytimes.com/1982/05/16/realestate/postings-little-paradise.html
https://www.rikerhome.com/press/queens_courier_mds_05-25-06.pdfhttps://www.thirteen.org/queens/map.html
https://www.rikerhome.com/press/queens_courier_mds_06-15-06.htm
https://www.nytimes.com/2006/10/11/nyregion/11farmhouse.html?_r=1&oref=slogin
https://www.rikerhome.com/press/ny-daily-news-11-7-06.htm
Don't miss past episodes:
The Renwick Ruin:
Investigating the Hawthorne Hotel: