Investigating the Hawthorne Hotel in Salem, Part 2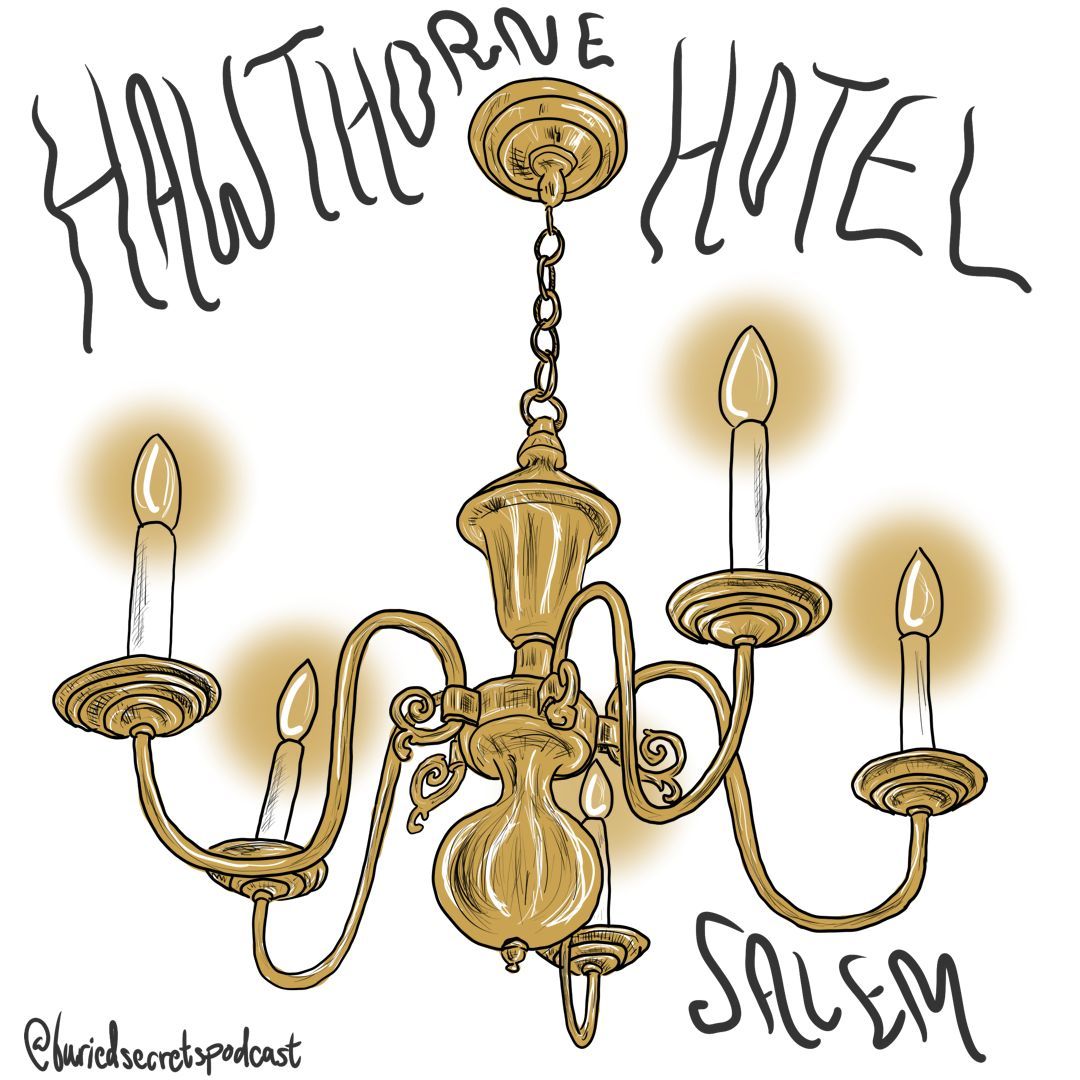 We deep dive into the stories of other guests who've stayed at the haunted Hawthorne Hotel in Salem and seen ghosts and other phenomena, as well as the hotel's history.
After sifting through all of the haunting-related reviews of the Hawthorne Hotel on Trip Advisor, we talk about the most interesting ones (including reviews from some guests who don't believe the hotel is haunted.)
Highlights include: ghostly cats, Ouija boards, the ghost of a sailor, glitchy phone calls, disembodied voices, cold spots
Episode Script for Investigating the Hawthorne Hotel in Salem, Part 2
DISCLAIMER: I'm providing this version of the script for accessibility purposes. It hasn't been proofread, so please excuse typos. There are also some things that may differ between the final episode and this draft script. Please treat the episode audio as the final product. 
Trip advisor (27 pages of reviews come up when you search "haunted"):
" Room 504 isn't known to be haunted, but my sister woke up in the night to what felt like the comforter moving slightly around her. Being a cat owner, she described it as feeling like a cat walked across her and then settled for a nap on her feet. This only occurred on one of our three nights in the hotel. No one we spoke to knew of an animal ghost in the hotel, but told her not to consider herself crazy either. They get a variety of reports from guests and the stories definitely add to the fun factor at this hotel. I would definitely choose this hotel again for a future stay and recommend it to others who don't mind a few creaky doors and a possible ghostly guest in their room"
https://www.tripadvisor.com/Hotel_Review-g60954-d115990-Reviews-or5-Hawthorne_Hotel-Salem_Massachusetts.html#REVIEWS
"The hotel is beautiful and the employees are very nice. Everything is clean and everything works fine. I would have thoroughly enjoyed my stay if not for one thing, which needs to be addressed: it's haunted.
People are not lying about that. I too thought they were lying, until yesterday night. I had the full experience (in room 510), starting at 3am and ending near 4 am: physical contact (finger poking me), crying outside the door, knocking on the door (from the mid level of the door), whispering sounds, lights flickering when a presence would be felt and then stabilizing when it would leave, and changes in temperature.
If you don't mind the risks of being awakened at night and to go though what I went though yesterday night, or if being in a haunted hotel is what you are looking for, I recommend it"
https://www.tripadvisor.com/Hotel_Review-g60954-d115990-Reviews-or10-Hawthorne_Hotel-Salem_Massachusetts.html#REVIEWS
"! I didn't know it was haunted when we booked but it is, a man in an orange coat and a hat kept opening our curtains and sometimes we couldn't open the closet… the handle kept jiggling in the middle of the night too and something kept touching my feet! I feel like too many people have played with spirit boards in this room ( never play with those things FYI) if you want a haunted room check into room 308 if not don't lol."
"We were not originally booked in the room. At check-in I asked for us not to Have that haunted room but the young man at the desk said we could have this 2 room suite as a free upgrade. Well, we fell for the bate and thought it would be an adventure. The back room is supposedly haunted, but nothing happened, except I slept like the dead! It was an adventure. The staff here goes out of its way to see you have everything you need. The restaurants were both excellent and not too pricey. You can walk everywhere from this hotel and I would highly recommend it."
odonna56 RE: room 325
" From my experience on this floor so far, I have experienced a few un-easy experiences. For the first one, I went down in the elevator to go to the fourth floor and I went inside the elevator, the door shut, and then opened again and I felt like something walked into the elevator with me. My second experience was, walking to my room I felt very un-easy walking to it, so I ran in scarcement. "
Angis K RE: 6th floor
"The hotel has a charm about it but I'm sure somthing else lay beneath the surface.
The elevator, halls and room are just creepy. Like somthing out of a strange old horror movie but stunning.
When we got to our room it over looked the park and the Salem witch museum which was lit up in red! The bedroom lights were flickering then turning themself on and off this was un settling.
It was hot in the room then freezing cold the next. The first night I dreamed about an old lady witch who was flying around the room screaming and pulling off our blankets. It was frightening. The next day I took a photo of the hallway just for memory sake and what appears to be on our room door is the face of the old lady from my dream.
I did not report this to hotel staff as I only just seen it now after looking back at photos. I am grateful to have had this experience but beware if you stay here things DO go bump in the night."
–Laura J from Melbourne, Aus
"Booked a trip to Salem and knew immediately we wanted to stay in the, what is believed to be haunted, Hawthorne Hotel. Checking in was a breeze and they even had the room available for us hours earlier. Had wanted a room on the 6th floor (for extra spooks) and what do you know we got it! Everything about the hotel was nice. A very old world class charm about it. Our room was one of the smallest ones, but that is what we had chose and was perfect for what we needed it for – to sleep in. Was still just as nice and clean as the larger rooms I am sure. It wasn't until the day we were checking out that we did believe the hotel to be haunted. I was making a phone call from my cell phone when it did not ring and instead was staticy with a man's voice chopping in and out. I did not even think "haunted" or "ghost" and had hung up. Had I thought quick enough I would have stayed on. I tried that same number literally 6 times after, each time ringing as normal and arriving to the female automated voice recorder. After that I got a little spooked and can honestly believe the others whom have had weird interactions at this hotel. It's a great hotel for families and couples alike and seems like a terrific spot to host a party in the ballroom. Didn't get to try the restaurant but there's always next time!"
"One thing – rumor is the hotel is haunted. We didn't have a second thought about that until we heard our door handle turning & clicking then silence…then the door just opened all the way by itself – no joke. A little scary as no one was there!!!"
–PDCornwell ("Beautiful Hotel for Romantic Getaway")
"
My sister and I travel back to Salem Mass where we were born after 30 years in Canada just to travel down memory lane, we stayed in room 325 for two nights and on the second night my cousins brought over a Ouija board because we told them it was the most haunted room in the Hawthorne Hotel just for fun, my sister and one of my cousins started asking questions and to my surprise a spirit was speaking back saying he was a handyman for the Hawthorne Hotel many many many years ago and had committed suicide by jumping out the window of the room I was staying and he said he had two small daughters and a wife, that he left behind I did not believe any of this my sister at the board if he wanted me to leave it said yes and I said I was not leaving and the Ouija board piece that you put your fingers on literally jumped off the board and hit the ceiling I swear to God, this is the honest truth my sister has it on her iPhone as a video. So in cloSing the hotel waS abSolutely fabulouS and if you are into paranormal activity maybe you'll experience Something in room 325
"
"
Hotel beautiful. Service excellent. Bathroom beyond small, you can brush teeth shower and use toilet simultaneously. The reason I am deducting points is because my daughter and I stayed in room 525 and were haunted from 2 a.m. to 5:30 a.m. This was the scariest thing that either of us has ever encountered in our lives. We will never be able to forget the experience. I will be surprised if this rating is accepted but I must report the truth. The place has every ounce of historic charm but unfortunately, this for us included apparitions and supernatural occurrences.
"-kvanbec 
negative review:
"
No bellhop service…you have to lug your luggage through the parking lot and around the corner to the door. Or take a chance with your life by double parking on the street. We stayed in the 'haunted' room #325. The bathrooms doors will randomly swing open if not fully latched…not a 'haunted' thing, probably a 'structural' thing. The bathrooms( shower has a separate room) in this room is extremely small…no countertop space at all…well, maybe just enough for a toothbrush. No privacy from the bathroom window because of sheer curtains. The view out the window was ghastly. Perfect for that 'haunted' effect! It was very noisy at night. We heard hallway doors slamming constantly. The food in the downstairs restaurant was delicious. And the staff was very pleasant. One star for the stall and one for the restaurant. I'm adding photos.
" The room had two chandeliers which flickered leaving us to believe that they may be "haunted"."
"
I heard that the 3rd and 6th floors are most haunted however I had a couple experiences in room 525. Nothing to make me pack up and leave in the middle of the night though.
"
My mom & I recently stayed at the Hawthorne Hotel, specifically because it is listed as being haunted. After having stayed at the Stanley Hotel in Colorado just a few months prior, I can say that I experienced even more activity at the Hawthorne! My mom & I stayed on the 6th floor, which is supposed to be the floor with the most activity. While waiting to go on our paranormal investigation later that night, we experienced several different things in our room, which included the tv turning itself off & being on a different channel when we turned it back on, the curtains moving without any air or draft being present anywhere in the room, and 'cold spots' that moved throughout the room, which is said to be an indicator of a spirit. We were so excited to actually have had something happen, and it was not in any way scary or harmful. Aside from our 'ghost adventure', the hotel was beautiful, cozy, warm, and the staff was extremely nice and helpful. I would highly recommend this hotel to anyone, whether looking for a ghost adventure or not!
"
My grandmother, mother and myself stayed here for 3 nights and enjoyed everything immensely! We happened to stay in room 325 which happens to be haunted! We didn't know this until after we stayed one night and was reading something about the hotel and we read that Ghost Hunters came a few years prior and didn't find anything… Well, we did! On the last night of our stay my mother and grandmother both were woken by the sound of a baby crying, followed by sounds of little girls laughing. It was about 4 o'clock in the morning when it happened. That was the highlight of our stay! As for everything else, it was wonderful – service, cleanliness, location, everything! I would definitely stay here again.
"
We did experience something odd immediately after turning off the lights around 11:00 p.m. There was a VERY loud sound in the room which made both of us sit straight up in bed. We thought someone had opened up the door, but no one was there. The door was closed and no one was in the hallway. We looked around the room to see if something had fallen, but nothing had. The only way we could recreate the sound was by swinging the metal safety lock open really hard against the doorframe (the kind that hotels use now in place of the chain locks). It kind of freaked me out, but I didn't feel threatened. I guess they just wanted to get our attention??!
"-turnest1 / Convinced 6th floor is haunted 
"
Now for the haunted part. It may have been the fact we were in Salem or exhaustion from two weeks on the road but I think our room was haunted. I kept hearing a scratching sound coming from the nightstand but there was nothing there and my husband could not hear it. Eventually it went away and I went to sleep. During the night my husband woke me to ask me what I wanted. Dazed and confused I asked what he was talking about. He had heard a women's voice call out his name and thought it was me, it was not. Enjoy your stay at the Hawthorne and don't worry the ghosts are friendly.
"Last but not least the GHOST. YES THIS HOTEL IS HAUNTED. I know beyond a shadow of a doubt. We had presence of man and women in our room. We could here music playing and faint talking. I walked downstairs and back up to the second floor area to see if there was a party going on. The party left around midnight I was told. Each night a women dressed in early turn of the century clothing, not 1920's would sit in the chair and look out to the Commons. I would turn on the light and she was gone. Something sat on the end of my bed each night and on two nights this presence grabbed my finger really hard. Call me crazy…my 24 daughter saw all of this as well. The minute you walk into the Hotel you are taken back in time. Maybe the Grand Dames of the past or still lingering…. dare you to stay in room 526 and say your alone. "
"Room 325 is supposedly haunted. We stayed in 326 … the minute we walked in we felt we were being watched, were even brushed up against. I left my camera in the room, only to find later that evening, the settings were changed. Very intriguing.
" –tomreilly 
sounds fake to me:
"
we stayed in room 614 next to the most haunted room there we were fooling around with our cameras and we turned on the video camera and heard a voice growl get out we took some pics every pic had at least 10 orbs we were getting touched the spookiest thing was that my parents were praying and all of a sudden a blue cross appeared on the door we looked and took pics wasnt there only on the video camera we left at 1:00 in the morning so do not stay in that room
"-iminlove 
"
who says that this place is not haunted. i have to differ. we stayed in a certain room called the bridal suite room.we heard small children crying and newspapers waving in the hallway. a certain employee at the hotel told us a story before we put this together. he told us that a bride and two of her children stayed there. the bride took her own life and her childrens. after we came back toour room small finger prints appeared on a back wall in the bedroom. this kinda spooked us. we left alittle bit earlier than expected.
Sources
Check out our first episode about the Hawthorne Hotel for our full list of sources, as well as pictures of the hotel.
Don't miss our past episodes, like The Smallpox Hospital, aka Renwick Ruin, on Roosevelt Island, NYC – Part 1, The Renwick Ruin and Charity Hospital, Roosevelt Island, NYC – Part 2, and Playing the Ghost in 19th Century Australia .