Investigating the Hawthorne Hotel in Salem, Part 1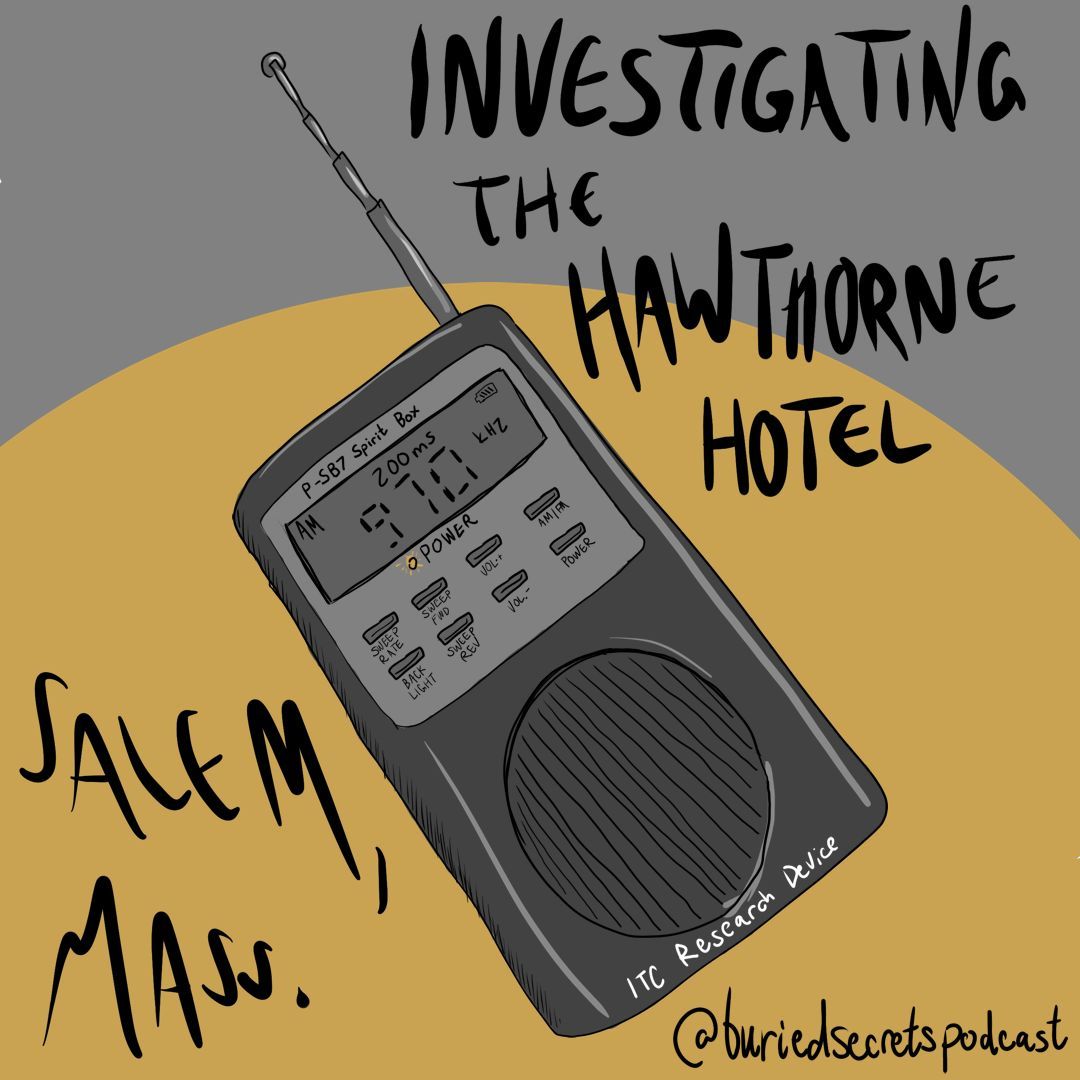 We share our strange encounters at Salem's famously haunted Hawthorne Hotel, including audio from an Estes session where we spoke to some of the hotel's spirits.
In part 1 of our look at the Hawthorne Hotel, we look at some of our experiences at the Hawthorne, and share audio from our (we believe successful) attempt to speak to some of the hotel's entities.
Highlights include: a possible sleep paralysis episode, a (briefly) missing wedding ring, a conversation with a squid fisherman, a not-so-friendly entity named Justin, and our first attempt at a Estes session.
Resources and things we mentioned:
Pictures
Episode Script for Investigating the Hawthorne Hotel in Salem, Part 1
DISCLAIMER: I'm providing this version of the script for accessibility purposes. It hasn't been proofread, so please excuse typos. There are also some things that may differ between the final episode and this draft script. Please treat the episode audio as the final product. 
This episode is a bit more conversational, so I have less of a script than usual. But here's what I got:
Stayed at the Hawthorne Hotel, Room 403
Around 5:30: explored the lobby, CB lost and re-found ring. It wasn't cold, I wasn't taking gloves off or doing anything else

~7:30 played Wildnesgeist by Stone Breath. 8:09 turned it off (50:40 mins in.) While listening, Amy and Jen ate sundaes.

Set SB-7 spirit box to 200ms, AM. Scanning forward I think.

~8:13 started

8:18-lights flickered after we talked about Bridget Bishop

8:22-lights flickered again

ended around 8:49

The lights over Amy kept flickering during the session, and they stopped after the session. The lights over us didn't flicker.

Overnight, had left on a snore recorder. Got an EVP that said "someone's here."

During the night, Jen had a nightmare (and maybe a sleep paralysis experience–at first Jen thought it was real, and she couldn't move.) Jen felt someone crawl out of the closet, get into bed and lay beside her and stare at her. The dream kept happening again and again, and in the dream, Jen screamed and we had to pull her out of the bed. She woke up and propped pillows against the door. It was a male ghost, and not a nice one.

In another dream, Jen heard knocks. At one point, there was a fire and everyone had to leave their rooms.

Note: there were some noisy partiers in the room down the hotel.
Sources
Books
Ghosts of Salem: Haunts of the Witch City by Sam Baltrusis
Haunted Salem & Beyond by Lynda Lee Macken
Articles
Don't miss our past episodes, like The Smallpox Hospital, aka Renwick Ruin, on Roosevelt Island, NYC – Part 1, The Renwick Ruin and Charity Hospital, Roosevelt Island, NYC – Part 2, and Playing the Ghost in 19th Century Australia .