Haunted Trinity Church and St. Paul's Chapel, NYC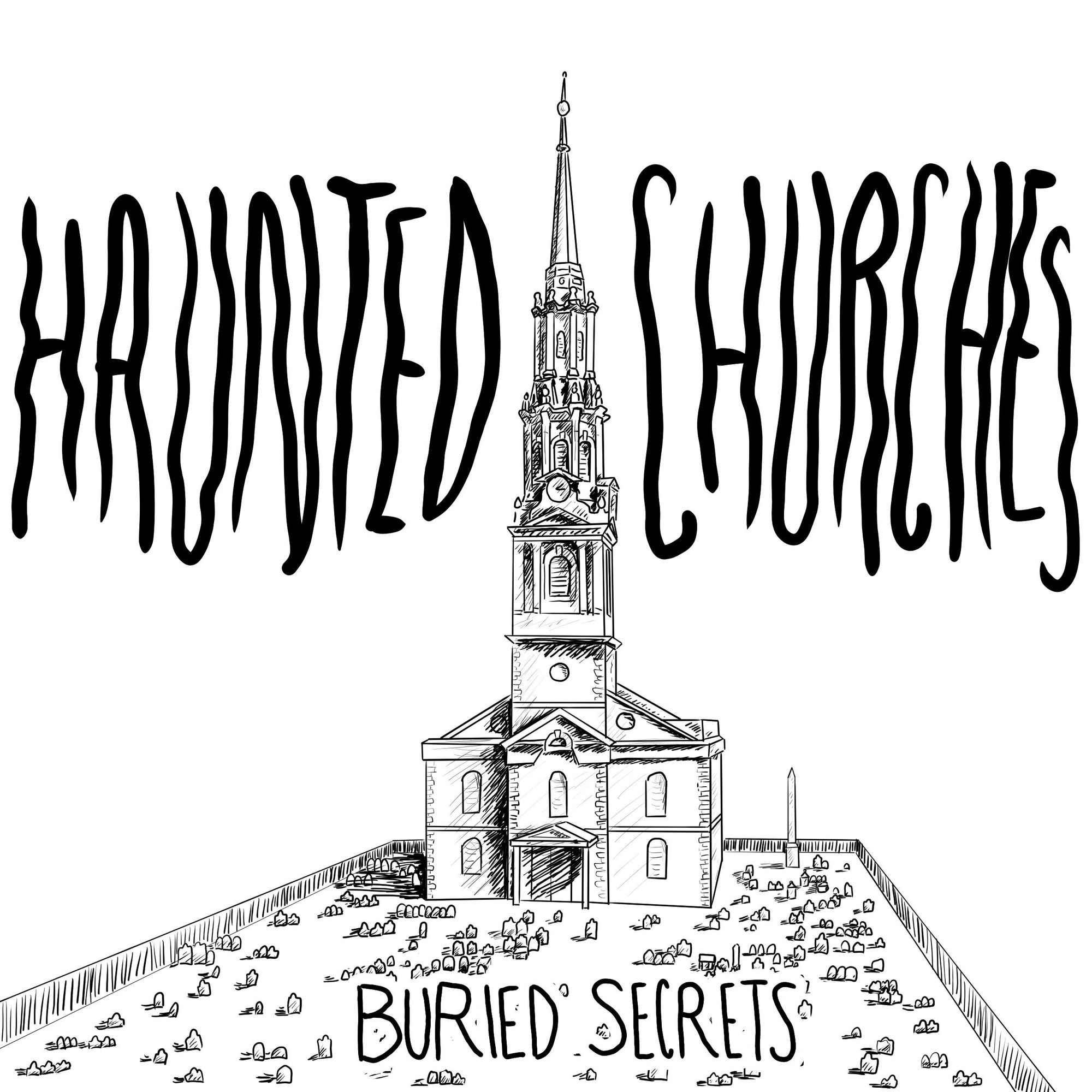 A look at two of NYC's oldest and most haunted churches: Trinity Church and St. Paul's Chapel, two famous houses of worship in Manhattan's Financial District with cemeteries tucked into their churchyards.
Highlights include:
• Disinterring corpses to free up space in the cemetery
• A body (and ghost?) with a missing head
• Edgar Allen Poe's possible cemetery cottage
• 2:30 am church services
• A child's Egyptian-style sarcophagus found during a playground's construction
• A look at some of the forgotten evils that happened in Manhattan
You can listen to more audio on patreon ($3/month): https://www.patreon.com/buriedsecrets
Follow us on instagram @buriedsecretspodcast
E-mail us at buriedsecretspodcast@gmail.com. 
Pictures of Haunted Trinity Church and St. Paul's Chapel
 

 

View this post on Instagram

 
 

 

View this post on Instagram

 
Episode Script for Haunted Trinity Church and St. Paul's Chapel, NYC
DISCLAIMER: I'm providing this version of the script for accessibility purposes. It hasn't been proofread, so please excuse typos. There are also some things that may differ between the final episode and this draft script. Please treat the episode audio as the final product. 
"The dead have company here. The feet of the living pass up and down the street hard by, and among these footfalls are those of descendants of the quiet ones. . . They are sleeping, too, in the shadows of the homes in which they lived and were happy." -Walks in Our Churchyards: Old New York, Trinity Parish By John Flavel Mines · 1896
As you may have guessed from the cold open, we're talking haunted churches! We'll be looking at two churches that are located in Manhattan's Financial District: Trinity Church and St. Paul's Chapel. They're both big tourist destinations near the World Trade Center, so if you've been to NYC as a tourist, you've almost certainly seen them.
The book I read from for the cold open is all about the churchyards of Trinity church, which held over 100,000 bodies. I really love that quote because it reframes the world basically from a ghost's point of view, describing what the world must be like to one of the dead in the churchyards of a bustling city.
Trinity Church
Trinity Church stands pretty close to Wall Street, on Broadway, in the Financial District. When it was first built, it was on the banks of the Hudson River, but landfill has extended the Island out by a lot, so it's sort of in the middle of that part of FiDi now.
 Trinity Church was first built in 1698, though the current Gothic Revival structure dates from the 1830s.
 120,000 bodies have been buried in Trinity Church's small graveyard
Alexander Hamilton, one of my more hated historical figures, is buried in the churchyard there.
There's a great quote from Andrea Janes, who founded a spooky tour company in NYC called Boroughs of the Dead, from a Business Insider article, that I wanted to read. She's talking about how in 1822, the church's sexton was so desperate to find space to bury more bodies that he would "go around with a spade, testing the earth and see where it was soft, where the coffins and corpses had become decrepit enough that you could dig right into them, and take the bones into the charnel house, and bury somebody new."
Some bodies were buried just 18 inches below the surface.
The smell was so bad they had to lay lime down to combat the stench.
By 1842, they were really-really out of space, so they bought some land in upper Manhattan from ornithologist John James Audubon and started burying people up there.
As a sidenote: If you check out the episodes I did about Calvary Cemetery, I talk a bit about how space had become a big problem in Manhattan churchyards, which led to the Rural Cemetery Act, so check out those episodes for more on that.
Trinity also had a third cemetery in the Village, called St. John's Cemetery, where 10,000 mostly poor and young people were buried between 1806-1852. Most people weren't able to afford a tombstone: there were only about 800 monuments in the cemetery.

 The best-known person buried there was Aaron Burr's first wife, Theodosia Bartow Burr.
Though there was also a sex worker named Helen Jewett, who was famously murdered in 1836, which became a media sensation. She was buried at St. John's Cemetery, but four nights later, medical students stole and dissected her body.
The land was converted to a park in 1897, to much Trinity Church's dismay. They moved 250 bodies and left the other 9,750 bodies there. The tombstones were buried in place; they just left one small memorial to some fallen firemen.
In an 1899 NY Tribune article, it was reported that all of the bones found when digging the park's "lake" were reinterred beneath a large stone kiosk, which is where the bathrooms and bandstand are.
Then, when they later filled the lake, some of the old tombstones were used as fill.
It is now James J. Walker Park.
Back in 1939, during constriction on a playground renovation, they found a child-sized cast-iron coffin in an underground vault.

The coffin was an Egyptian style sarcophagus.
 The New York World-Telegram said  "The girl's cast iron casket…had a glass window in the top. Her white silk dress still looked fresh and dainty. After 89 years, you could still see that she'd been a pretty yellow haired child."
This was the body of Mary Elizabeth Tisdall, 6 years and 8 months old, died April 14, 1850. She died of brain congestion, and had lived with her family on East 9th Street, near Astor Place, in a house that no longer exists. Her father was a coal merchant from Bristol, as well as a prominent Mason. He was a grandmaster of St. John's Lodge and he wrote a famous Masonic poem. Mary's brother outlived her, going on to become a Greek professor at City College.
Today, Mary's body lies in the catacombs beneath Trinity Church.
One weird sidenote: There's an old map that shows the burial ground as it was in 1854, and there's a little house on the burial ground, where there's a handwritten note that says "E.A Poe 113 1/2"

So it seems possible that Edgar Allen Poe lived in a cemetery in Manhattan for a while, maybe in the 1830s
Elsewhere, though, it's said that Poe lived on nearby Carmine Street and just liked walking in the cemetery.
There's a 2014 blog post by Jeremy Sierra on Trinity Church's website, where he details his coworkers' experiences with ghosts in their offices at 74 trinity place, which is right behind Trinity Church. To read a bit of that:

"I'd heard about hauntings at 74 Trinity Place, where our offices were located until our move in September. . . .
Rita tells me that she saw a ghost on the fourth floor several times. It was almost a shadow, wearing what appeared to be 19th century clothing, including a hat with a big brim, she said.
She first time saw it in the storage room where they keep boxes of artwork from a 9/11 exhibit. Later, she found it peering into her office. "I'm not scared of them," she said of the ghosts.
Two other staff members, Luke and Casey, describe a similar ghost on the 10th floor, which was used mostly storage, while doing an inventory. It briefly peeked its big-brimmed hat and head around the corner. They both felt chills. . . .
Strangely, though there are many thousands of people buried in the Trinity churchyard, there are few ghost stories in the Trinity archives. Anne, the archivist, can only tell me about 17th century medical students from Columbia University, who robbed the Trinity graveyard for bodies to use in their education. . . .  She does mention the time someone standing at her desk suddenly told her he saw an old man appear behind her.
Leah recounts a day in the archives years ago, when several boxes of notecards apparently threw themselves off a shelf. You can see the resulting mess in the photo below (she thinks it's the ghost of Morgan Dix, former rector of Trinity. Those are indexes of his books)."

The blog post also reports that the Rev. Mark Bozzuti-Jones has blessed some offices that people said were haunted.
The book Haunted Manhattan reports that phantom laughter has been heard near the tombstone of one Adam Allyn, a comedian who died in 1768
There's also the story of Robert Fulton, an inventor who designed the first steam-powered warship among other inventions. He was buried at the Trinity churchyard, and has been seen wandering around with a model of his steamboat, the Clermont.

He started appearing when most ferries stopped running after WWII, though as ferry service has increased in NYC recently, he supposedly appears less often

Since Alexander Hamilton is buried at Trinity Church, he's been seen at nearby City Hall Park dressed in revolutionary war uniform.

He's also been spotted near his grave

Captain Kidd, the famous privateer, is also said to haunt Trinity Church. Back in the 1690s, he provided a winch to raise the stones to for the church steeple

Though he was a privateer–which is basically a pirate with permission from the government–he was scapegoated for piracy and hanged in London in 1701. He wasn't even allowed to defend himself.
Though he died in London, he supposedly wished to be buried at Trinity Church, so the story is that he still walks around the churchyard
St. Paul's Chapel
If you go a few blocks north on Broadway, you'll arrive at St. Paul's Chapel.
Located in the Financial District near City Hall Park, this chapel used to be part of my daily landscape. Back when I still worked in an office, my wife Amy and I would go for a few-mile-long walk every morning before work, and we always passed by St. Paul's Chapel.
I rarely took lunch breaks, but when I did, I usually visited the cemetery, which is in the churchyard behind St. Paul's Chapel, and is full of many worn-down monuments and is a peaceful little spot to walk through, even though it's next to the Oculus, a major transportation hub, and the World Trade Center.
St. Paul's Chapel is famous because of its proximity to the WTC.

Building 5 of the WTC was right across the street from St. Paul's, and the towers were a block away.
Though St. Paul's churchyard ended up with a lot of debris and some broken tombstones during the attach, the chapel was totally fine.
For months after the disaster, it was a relief center for recovery workers and a sort of shrine memorializing the dead.
In 2003, the churchyard was restored: the headstones had to be vacuumed and washed, because corrosive particles had gotten into their surfaces because of the dust storm from the towers' collapse. There were also two inches of ash-filled topsoil that they got rid of and replaced with sod

But I mention all of this mostly because that's what it's known for now. But its history goes way back.
I wanted to read a bit more from Walks in Our Churchyards, became the author really eloquently describes what I felt when I'd go down to the cemetery on my lunch breaks:

They who sleep beneath are not the dead, but the living. We know about them; have read of their faults and their virtues . . . We are the dreamers and they are the folk of action. You shall be passing any night when the moon is shining on these grasses and look through the iron rails that keep out a disturbing world, and every stone shall cry out to you from its sculpturings and make you long to know the story of the ashes that was once a man or woman of your world, and then you shall turn away and gaze upon the painted names of men that gleam from the walls of buildings across the way and that eagerly announce their business to the world, and you shall feel no such throb of sympathy nor sense of weird comradeship as when your face was set towards the dead. Did I not say that we are the dreamers?

I just love how goth people were in the 19th century.
St. Paul's Chapel the oldest standing church in NYC, in part because when the British captured NYC during the Revolutionary war, they burnt down a quarter of the city in the Great New York City Fire of 1776, including Trinity Church.
When the church was completed in 1766, it was the tallest building in the city.
St. Paul's Chapel is a late Georgian Style church.
After George Washington was inaugurated as president in 1789, he prayed at St. Paul's, and he attended St. Paul's until Philly became the capitol of the US in 1790. So there's a pew set aside for him there.
St. Paul's has other revolutionary war ties. There's a big monument to Major General Richard Montgomery, who fought in the Revolutionary war and was killed during an assault on Montreal in 1775. The monument was built in 1776. In 1818, his body was disinterred from where it'd been buried, in Quebec, and brought to St. Paul's Church to be buried beneath the chapel's east porch.
The churchyard behind the church, on the west side, has 800 gravestones, and there are 30 vaults beneath the churchyard and the chapel.
People stopped being buried there in the 19th century when it became illegal to bury people in lower Manhattan, though some people were still buried in family vaults up until the early 20th century.
A few other interesting things about the chapel:
On and off from around 1904-1918, St. Paul's had a 2:30 AM service every Sunday.

Many of the city's newspapers and print shops were nearby, as well as the post office and telegraph companies, where people worked 24/7. And their work was lit by the light bulb, since the neighborhood had gotten electricity in 1882.
There were about 5,000 nigh workers in the area, and 2,000 of them were Protestant. The nearby Catholic church had late-night mass which many Protestants ended up going to because there was no other option, so a vicar named Montague Geer decided that there should be a protestant option for middle-of-the-night services.
Usually around 70-100 people attended
In 1911, St. Paul's got an electric sign on the broadway side which they turned on at 10 pm Saturday nights and had on till 3:30 am on Sundays, to advertise the service

In 1962, during some conservation work on the chapel, they found bones and hundreds of oyster shells beneath the flooring.

The shells suggested that the area had been a camp for indigenous people (I'd assume the Lenape? Though the report I read didn't say for sure.)
The bones were from sheep, cows, and pigs.
They also found, beneath a pew on the far east side, an old flyer from a Barnum show from 1872. PT Barnum's Museum was once across the street from the chapel, and he had a traveling show associated with it.
Then, when they took the casing off the columns that hold up the roof, they found that they were actually huge tree trunks. They're pine trunks with about a 24″ diameter at the bottom, which had been fashioned into an octagonal shape and then put into stone bases. So they were surprising to discover that.
Then, as they removed some marble flooring that had been put down in the 19th century, which had fallen into disrepair, they found bits of old glass bottles. And in the south center aisle, beneath the floor, they discovered fragments of two small tombstones. Strangely, both the people mentioned on the tombstones were buried out in the churchyard, so the tombstones presence beneath the chapel floor was a mystery.

So what ghost stories are associated with St. Paul's?

The big one is the headless ghost of an actor named George Frederick Cooke. In life, he'd been a successful Shakespearean actor. He'd also been an alcoholic who owed some people a lot of money. He went to America on tour in 1810, where he played Richard III in NY to great acclaim, and then went on to Boston, Providence, Philly, and Baltimore. But when the war of 1812 broke out, he got stuck in the US. He died of cirrhosis while in NY in 1812, and he was buried at St. Paul's Chapel, initially in the Stranger's Vault.

He was famous, so people were morbidly interested in his corpse, in a very 19th century way.
For example, it's said that his toe or finger was stolen by another actor who sent it to Cooke's wife in London. Cooke's wife was horrified and threw it away.
When they moved his body from the Stranger's Vault to a public grave, his head was missing.
Now, there's probably no big mystery here. To pay his outstanding debts, Cooke had left his head to science. (Apparently they paid for that kind of thing back in the day.)
So, after he died, he was decapitated.
In 1821, Cooke was re-buried with a new memorial paid for by one of his protegees.
The story goes that his skull was used as Yorick's skull during performances of Hamlet at New York's Park Theater. It's definitely not unheard of for famous actors' skulls to be used in Hamlet performances.
In 1938, Cooke's skull was donated to the Thomas Jefferson Medical School Library in Philly.
Starting in 1821, when Cooke's new monument was put up, people began saying that his headless ghost has been seen prowling around the churchyard and in an nearby alley where a theater once stood. Some people say he's searching for his missing head.

There have also been reports of George Washington's ghost appearing to pray at the chapel
Also, this is just an aside, but as usual, it's a long aside:

I've said this before, but I don't think you can really talk about hauntings in a location without talking about the location's history. And so when talking about hauntings in lower Manhattan, we need to look at the history of real, bone-chilling evil done in Manhattan's Financial District, which has been happening for a long time.
Wall Street has done a lot of bad things in recent years that are too numerous to go into, but I think everyone knows about. But I want to take a couple minutes to talk about the genocide and human rights abuses that occurred in this area, as well.

What a lot of people don't know or forget is that Wall Street was basically built by the slave trade.
Enslaved people literally built the wall that wall street was named after, back in the 1600s.
And just a reminder, the Transatlantic slave trade was huge: it's estimated to have involved 40,000 ships carrying about 80 people per day for 400 years.
For two centuries, New York was the capital of American slavery. For pretty much as long as New York–or really, New Amsterdam–existed, there were enslaved people.
During the colonial period, 41% of New York's households owned slaves. For comparison, in Philly, that number was 6%, and in Boston, it was 2%.
After Charleston, South Carolina, NYC was the largest slave-owning port city. During the mid-1700s, 1 in 5 New Yorkers were enslaved.
In the 18th century, Wall Street was home to a major market that sold enslaved people. Established in 1709, it was a privately owned market where grain, meal, and people were sold. It was called the Meal Market.
On Wall Street, there's a big famous building called Federal Hall–you've definitely seen it on TV, it's all white stone and grand columns.
Federal Hall, back when it was the British City Hall, used to have a jail on the top floor and a dungeon in the basement. And in 1741, during a slave rebellion, 100 enslaved people were captured and thrown in the dungeon. They spent an entire summer trapped in the dungeon, and during that time, many of them were killed.
Also, I talk about this in more detail during the episode about Potter's Fields in Manhattan, but there's also a long-forgotten cemetery where both free and enslaved Black people were buried, just north of City Hall park, a short walk north on Broadway from Trinity Church.

That burial ground was totally forgotten until 1991, when a big construction project turned up human remains.
But about 20,000 Black people had been buried in Lower Manhattan, and back in the late 1700s, a number of bodies were stolen for medical experiments.

Slavery in New York lasted until 1827, when it was finally abolished in the state. Slavery had been outlawed in Vermont, Massachusetts, and Pennsylvania 40 years before.
Despite NYC's ties to slavery, that part of the city's history has been pretty much written out and forgotten.

But the dark history of the area around Trinity Church and St. Paul's Chapel doesn't stop there, unfortunately. Today, there's a museum in the Financial District called the National Museum of the American Indian. The museum stands on the location where Fort Amsterdam, the Dutch headquarters on the tip of Manhattan, was in the 1600s.

In the 1840s, the director general of New Amsterdam (basically the governor) was a man named Willem Kieft.
Kieft was a fail son, as far as I can tell. He had no real experience or qualifications; it seems that the Dutch West India Company appointed him as director because he had family connections.
So this fail son came to New Amsterdam, took the helm and decided that he was going to reduce operating costs by demanding tribute payments from the indigenous peoples living in the area.
He was told not to do that, by colonists who'd lived in the area for a while, but he ignored them.
Tribal leadership said they weren't going to pay the tribute.
So Kieft started pushing for a war, and eventually decided to kill every Algonquin, but especially the women and children.
Kieft's forces killed 120 people, in North Jersey (then known as Pavonia) and the Lower East Side (then known as Corlear's Hook).
This part is very graphic, but a Dutch man named David Pietersz. de Vries wrote in his journal:
"Infants were torn from their mother's breasts, and hacked to pieces in the presence of their parents, and pieces thrown into the fire and in the water, and other sucklings, being bound to small boards, were cut, stuck, and pierced, and miserably massacred in a manner to move a heart of stone. Some were thrown into the river, and when the fathers and mothers endeavored to save them, the soldiers would not let them come on land but made both parents and children drown"
After the massacre, the heads of the murdered people were put up around Fort Amsterdam as decoration.
During the ensuing war, white colonizers fled to Fort Amsterdam, and Kieft decided to create a buffer area between Fort Amsterdam and the Algonquian-speaking Lenape, in the land that the white people had left.

That buffer area was about 130 acres of land, centering on where Washington Square Park was today.
The land was called "Land of the Blacks" or "Free Negro Lots," and was inhabited by Black people who were considered half-free. 
Half-freedom or partial freedom was a thing in New Amsterdam in the mid-1600s, where some enslaved Black people were allowed to earn wages (also, at the time, it apparently wasn't uncommon for working class white people to marry half-free Black people.)
There were about 30 farms in "Land of the Blacks." And it seems that as the English took over New Amsterdam, the Dutch freed about 40 people who had half-slave status, so the English wouldn't re-enslave them.

I'm not 100% sure, but I think that may have been what happened to some of the inhabitants of "Land of the Blacks."
Though I do think the British ended land-owning rights for Black people.

What we do know is that the village was destroyed by anti-Black laws after the New York Slave Revolt of 1712.
Afterwards, there apparently was a neighborhood called Little Africa, in Greenwich Village. In the late 19th century, a lot of the inhabitants of Little Africa were from the south, and had moved up to NY after the civil war ended.
At its height, more than 14,000 formerly enslaved Black people lived on Minetta Street and Minetta Lane in the Village.
It sounds like most Black residents left the area by the mid-19th century.
Little Africa also had the first Black church in the city, Mother Zion African Methodist Episcopal Church.

The congregation, which was founded in 1796, still meets today in a neo-Gothic building on 137th Street, in Harlem.
The current building opened in 1925, but the congregation met several other places over its hundreds of years of existence, and it was an important part of the abolitionist movement, and was an Underground Railway refuge.

That was a bit of history that I found really interesting and wanted to share, however, to go back to the 1600s:
After the massacre of indigenous peoples and the war that resulted from Kieft's bloodthirsty and foolish agenda, Kieft was fired in 1647 and replaced with Peter Stuyvesant.
Kieft drowned in a shipwreck on the way back to the Netherlands, and good riddance.
Peter Stuyvesant also wasn't great, though.
We'll talk about Stuyvesant in next week's episode, but he was the last director general of New Amsterdam, and there are a TON of ghost stories about Stuyvesant, one of which I shared in the Ghosts of Hell Gate episode.
Stuyvesant was an awful guy.
He was famous for hating religious freedom. He was a member of the Dutch Reformed Church and had issues with Lutherans, Catholics, and Quakers. But he especially hated Jewish people; he was a famed anti-Semite.
A few things he did included denying Jewish people equal rights, as well as saying a lot of awful things about Jewish people. He tried to get Jewish people, even those with Dutch passports, forcibly deported from the colony, though the Dutch West India Company didn't let him do that.
He also ordered the public torture of a 23-year-old Quaker preacher, and he passed a law saying that anyone who harbored Quakers would be punished with fines and imprisonment
A lot of stuff in NYC is named after Stuyvesant, including a famous housing development called Stuyvesant Town,  a very good high school, Stuyvesant High School, and a neighborhood called Bedford-Stuyvesant. Everyone calls them Stuytown, Stuy High, and Bed-Stuy, so it's easy to forget that they're named after him.
Sources consulted RE: Haunted Trinity Church and St. Paul's Chapel
Books
Websites
https://www.businessinsider.com/the-haunted-history-of-lower-manhattan-2015-10
https://www.huffpost.com/entry/wall-streets-slave-peddli_n_1147314
https://www.nps.gov/afbg/learn/historyculture/enslavement.htm
https://peoplesworld.org/article/slavery-in-new-york-uncovering-the-brutal-truth/
https://en.wikipedia.org/wiki/Atlantic_slave_trade
http://www.slaveryinnewyork.org/history.htm
http://www.slaveryinnewyork.org/about_exhibit.htm
https://www.nps.gov/afbg/learn/historyculture/enslavement.htm
https://en.wikipedia.org/wiki/Director_of_New_Netherland
https://en.wikipedia.org/wiki/Willem_Kieft
https://en.wikipedia.org/wiki/Kieft%27s_War
https://en.wikipedia.org/wiki/Fort_Amsterdam
https://en.wikipedia.org/wiki/Trinity_Church_(Manhattan)
https://untappedcities.com/2017/06/09/the-top-10-secrets-of-nycs-st-pauls-chapel/?displayall=true
https://didyouknowfacts.com/the-headless-ghost-of-st-pauls-chapel/
https://www.trinitywallstreet.org/blogs/archivists-mailbag/trees-inside-st-pauls-chapel
https://untappedcities.com/2017/06/09/the-top-10-secrets-of-nycs-st-pauls-chapel/?displayall=true
https://en.wikipedia.org/wiki/St._Paul%27s_Chapel
https://en.wikipedia.org/wiki/St._Mark's_Church_in-the-Bowery
https://en.wikipedia.org/wiki/History_of_slavery_in_New_York_(state)#Half-slavery
https://en.wikipedia.org/wiki/Land_of_the_Blacks_(Manhattan)
https://en.wikipedia.org/wiki/Mother_African_Methodist_Episcopal_Zion_Church
Information about Little Africa and the history of Black people in Greenwich Village: https://greenwichvillage.nyc/blog/2020/02/10/look-black-history-village/
https://atlantablackstar.com/2015/06/16/burial-remains-tell-the-story-of-new-yorks-little-africa/
https://www.nytimes.com/2004/05/02/nyregion/in-their-footsteps.html
https://en.wikipedia.org/wiki/Algonquian_peoples
https://untappedcities.com/2015/02/25/today-in-nyc-history-a-1643-massacre-of-the-lenape-almost-dooms-new-amsterdam/
https://www.ncai.org/resources/resolutions/national-american-indian-holocaust-museum
https://en.wikipedia.org/wiki/African_Burial_Ground_National_Monument
https://www.trinitywallstreet.org/blogs/trinity-notes/ghosts-trinity
https://en.wikipedia.org/wiki/Trinity_Church_Cemetery
https://en.wikipedia.org/wiki/James_J._Walker_Park
https://en.wikipedia.org/wiki/St._John%27s_Burying_Ground
https://www.trinitywallstreet.org/blogs/archives/mummy-trinity-church
https://www.findagrave.com/memorial/74852371/mary-elizabeth-tisdall
https://ephemeralnewyork.wordpress.com/tag/mary-elizabeth-tisdall/
https://keithyorkcity.wordpress.com/2012/10/04/st-johns-graveyard-little-leaguers-now-play-ball-above-10000-corpses/
https://nycemetery.wordpress.com/2011/01/04/st-johns-cemetery/
https://nycemetery.wordpress.com/2011/06/04/st-marks-in-the-bowery-churchyard-and-cemetery/
https://nycemetery.wordpress.com/2011/01/14/st-pauls-chapel-churchyard/
https://www.flickr.com/photos/wallyg/544841964/
https://www.flickr.com/photos/75469677@N00/4420876543/in/set-72157623465293193/
https://www.6sqft.com/10-offbeat-spots-that-reveal-new-york-citys-haunted-history/
https://ny.curbed.com/maps/new-york-city-haunted-buildings-halloween
https://www.boweryboyshistory.com/2015/10/the-ghost-of-peter-stuyvesant-may-still-haunt-the-east-village.html
https://www.nypl.org/blog/2010/02/02/where-st-johns-old-burying-ground
https://nypost.com/2014/10/25/the-hidden-cemeteries-of-nyc/
https://www.6sqft.com/what-lies-below-nycs-forgotten-and-hidden-graveyards/
https://daytoninmanhattan.blogspot.com/2010/05/burying-ground-below-ballfield-james.html
https://www.findagrave.com/cemetery/2389220
https://en.wikipedia.org/wiki/Trinity_Church_Cemetery
https://the-line-up.com/haunted-churches
https://nyghosts.com/st-marks-church-in-the-bowery/
http://www.weirdus.com/states/new_york/ghosts/st_marks_church/index.php
https://nyghosts.com/st-marks-church/
https://forgotten-ny.com/2014/07/adam-allyn-comedian-trinity-church-cemetery/
https://the-line-up.com/ghosts-st-marks-church-in-the-bowery
https://the-line-up.com/the-headless-ghost-of-st-pauls-chapel
https://untappedcities.com/2017/06/09/the-top-10-secrets-of-nycs-st-pauls-chapel/?displayall=true
https://www.trinitywallstreet.org/blogs/archivists-mailbag/church-wee-hours
https://www.trinitywallstreet.org/blogs/archivists-mailbag/trees-inside-st-pauls-chapel
https://en.wikipedia.org/wiki/St._Mark's_Church_in-the-Bowery
https://en.wikipedia.org/wiki/Alexander_Turney_Stewart
https://gomadnomad.com/2011/10/25/new-york-city-haunted-cemeteries/
http://www.liparanormalinvestigators.com/haunted-places-on-li/the-five-boroughs/trinity-church-cemetery/
http://www.scoutingny.com/the-masked-lady-of-broadway/
https://nyghosts.com/st-marks-church/
https://keithyorkcity.wordpress.com/2012/10/04/st-johns-graveyard-little-leaguers-now-play-ball-above-10000-corpses/
https://daytoninmanhattan.blogspot.com/2010/05/burying-ground-below-ballfield-james.html
Don't miss our past episodes:
The Renwick Ruin:
Investigating the Hawthorne Hotel: